Demolition begins on Dallas building deemed one of the 'most contaminated sites in the U.S.'
DALLAS - East Oak Cliff residents are ecstatic that a building that closed long ago that used dangerous chemicals and left the land contaminated is finally coming down. 
With concern over the potential health threat to the community, the government stepped up its plans to tear down an old electroplating facility in East Oak Cliff that's been identified as one of the most contaminated sites in the country.
Gloria Barnes works with the Arden Terrace Homeowners Association. A smile creased her face as she watched what was home to the Lane Plating Works Company coming down on Thursday.
"It's beautiful. It's a wonderful thing today," she said.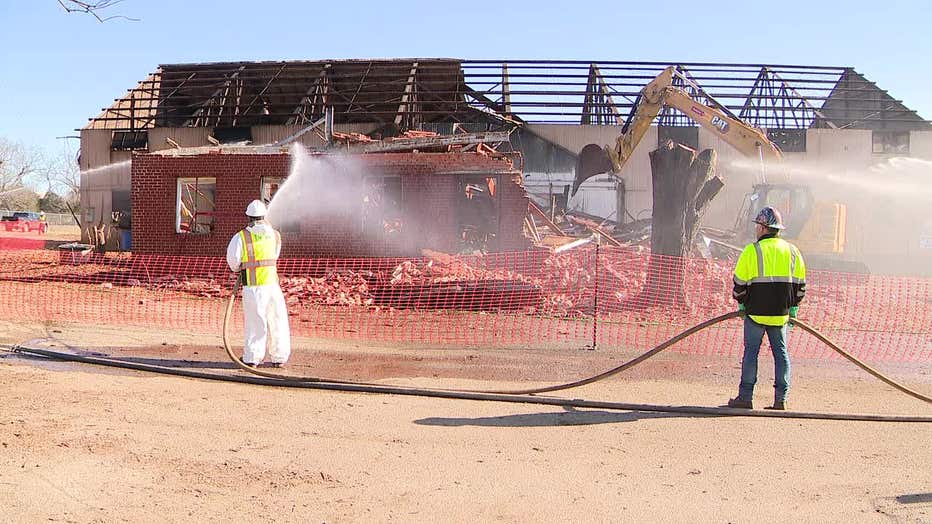 "It's been a long time waiting for this demolition to occur," said Councilman Tennell Atkins. "It started almost four, five years ago." 
The Environmental Protection Agency calls the site one of the most contaminated in the country.
Lane Plating Works sat in this neighborhood called Arden Terrace along Bonnie View, south of Loop 12 in East Oak Cliff for 90 years.
"It's been sitting all these years, and nobody knew really what was going on over here," Barnes said.
An electroplating facility operated there with mounting fines and investigations. The company filed bankruptcy in 2015, closing its doors and leaving large volumes of liquid plating waste behind.
"The EPA has been working on the site since 2016 and added the site to the national priorities list in 2018," explained EPA Regional Administrator Dr. Earthea Nance.
Assessments identified five concerning contaminants: hexavalent chromium, arsenic, mercury, lead and chromium.
"We've waited so long," Barnes said. "And we don't know how many lives it has contaminated, you know."
But because of what was discovered inside the building and the soil, and people were sheltering inside, the property was fenced and fast tracked as a superfund site.
"Demolition of this building should be complete by the end of February followed by the excavation and removal of contaminated soil, which is roughly 11,000 tons of soil," said EPA On-Site Coordinator Eric Delgado. "That's a lot. It's the most I've ever done in my career."
Freshman Rep. Jasmine Crockett is back from D.C. and in the district for the demolition.
"As a community, we are taking vital steps to ensure the people of South Dallas and Arden Terrace have a cleaner and safer community which, quite literally, should be a basic human right," she said.
Barnes doesn't know what will eventually come here but knows it will be much better.
"Something that will be beneficial to the whole neighborhood," she said.
Following the removal of all the soil, the government will work with the community advisory group to collaborate on what will be welcome in the community on the five acres where there were EPA warnings.