Dallas Zoo missing monkeys suspect planned to keep stealing animals, court docs reveal
DALLAS - A man accused of taking two monkeys from the Dallas Zoo and damaging other animal habitats said he would steal more animals, court documents reveal.
Police say the man suspected of stealing two monkeys from the Dallas Zoo last week admitted he broke into the zoo at night, stole the monkeys and then took them on a DART train to an abandoned house.
The man in custody is 24-year-old Davion Irvin. This past Thursday, he was booked into the Dallas County jail.
New court documents detail the alleged confession he made to investigators after his arrest.
Police say he also admitted that he petted a clouded leopard he let out of its enclosure last month. He apparently committed these crimes because he likes animals.
And prior to the break-ins at the zoo, police say the suspect visited multiple times, asking strange questions about the animals and taking notes on a piece of tissue paper.
CONTINUED COVERAGE:
Dallas Zoo Arrest: Man facing charges in connection to monkey disappearance, leopard escape
Dallas Zoo making 'significant changes' to security
Dallas Zoo: Timeline of suspicious events that police are investigating
Police investigating 'suspicious' death of vulture at Dallas Zoo
Missing clouded leopard found safe at Dallas Zoo; criminal investigation ongoing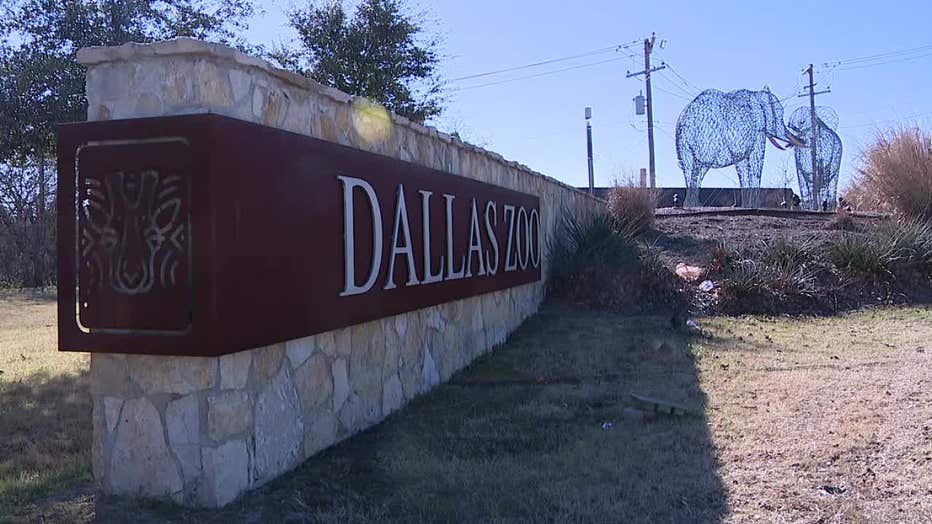 FOX 4 obtained court records that lay out his confession.
According to the arrest warrant affidavit, Irvin admitted he got past the zoo's security last month by jumping a fence after hours.
He said he grabbed two emperor tamarin monkeys out of their enclosure, then rode the DART rail and took the animals to a vacant home in Lancaster.
Police found the monkeys there after receiving multiple tips from the public.
Jeremy Ross knew exactly who he was looking at when news reports showed the picture of a man wanted for questioning about a series of mysterious events at the Dallas Zoo.
"The first encounter I had with this guy, it was weird," he said. "So I remembered his face."
Ross's father is the pastor at the Family Center Church of God in Christ in Lancaster. He says Irving visited the church and was actually squatting inside a vacant home owned by the church.
"I saw it, I looked at my wife," he recalled. "I said, 'Looks like the guy that visited our church. Looks like the guy that's squatting right now.'"
According to Dallas police, Irvin said he "loved animals." And he loved them so much that he tried to steal a clouded leopard named Nova last month, and he did steal two emperor tamarin monkeys.
Newly obtained court documents detail Irvin's actions prior to last week's break-in and his apparent confession.
In the days leading up to the break-in, Dallas police say Irving was visiting the zoo asking specific questions like, "How do you catch the birds, and where do they go at night?"
And about the tamarin monkeys, Irvin asked "Where can he get one and how do y'all get them in at night?" He also asked, "How do you handle them? And are they aggressive?" 
Zoo employees said he took notes on tissue paper.
Then police say on Jan. 28, Irvin waited until it was dark, scaled a wall to get into the zoo, cut open the mesh enclosure and took the monkeys.
Investigators say Irvin then got on a DART train and brought the monkeys to the home in Lancaster. The monkeys were discovered the next day after Ross called the police. 
"I told the detectives, "I don't know if the monkeys are there, but I do know the guy looks familiar and same activity with animals,'" Ross said.
Last Thursday, an employee at the Dallas Aquarium recognized Irvin and alerted zoo officials. Dallas police arrested him while trying to get on a DART train. 
Detectives say Irvin confessed not only to stealing the monkeys but also to his role in the brief escape of a clouded leopard last month.
Irvin told police he had the "Intention of stealing the leopard but could only manage to pet it." 
Irvin is charged with multiple counts of animal cruelty and two felony counts of burglary of a building. 
For Ross and his family, they are happy this whole thing is over. 
"What's crazy is they actually found the tools he was using in the zoo," he said "It's going to help their case because he found them in the house."
It's not clear yet if he is responsible for the unexplained death of a rare vulture at the zoo.
Irvin is still in the Dallas County jail. 
Following the crimes, the zoo officials say they are working to improve their security so something like this never happens again.