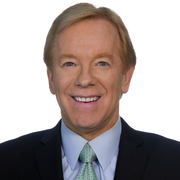 Dan Godwin
Reporter/Anchor
As a kid, I probably watched too much television. But all that time in front of the tube did yield at least one benefit: It helped me figure out what to do for a living!
I've always considered myself lucky that I'm allowed to tell stories using pictures, sound, and whatever creativity I can muster. And I'm especially thankful that back in 2000, my career path led me to North Texas, and Fox4.
If you get up early, you can see me reporting for the Good Day show, both hard news and features.   The variety of assignments I get definitely keeps the job interesting.   I also serve as anchor on Fox4 News at Noon, and Sunday nights, I do an interview segment called "Fox4ward".
I grew up in Southern California, in a town called Calabasas. I spent a lot of summer days at nearby Zuma Beach, not actually surfing, but hoping to give that impression.
I developed an interest in mass media early on, and figured UCLA would be the right place to go to college. It was a great experience, and after graduating, I eventually took a job as a weekend cameraman at a station in Santa Maria, California. (That's about an hour north of Santa Barbara.)  It was there I picked up the basics of electronic news gathering, eventually becoming a reporter and weekend anchor.
In 1992, I took a job in Fresno, in the heart of California's vast Central Valley, and stuck around there until landing my current job at Fox 4. I was instantly impressed by this station's commitment to news, and the caliber of the people who work here.
The icing on the cake:   A few years back, I met a wonderful woman named Kimberly, at an event in Downtown Dallas.    And to my eternal good fortune, we ended up getting married!   So there's no doubt, North Texas for me has been a fantastic place, both personally and professionally.
If you ever want to drop me a note, here's a great way to reach me:  dan.godwin@fox.com.
The latest from Dan Godwin