Dallas salon that re-opened in defiance of countywide restrictions ordered closed by judge
DALLAS - A defiant North Dallas salon owner said she will ignore a court order and plans to open again Wednesday.
Shelley Luther started providing haircuts again this past Friday at Salon a la Mode despite state and local coronavirus restrictions. She said she's "had enough" and is willing to go to jail over the debate if it were to ever come down to that.
RELATED: Coronavirus coverage
"All of the small business owners need to have some sort of voice, and we need to stand up for what's right or we'll continue to get our freedom taken away," Luther said on Friday.
City officials cited Luther and the county sent her a cease and desist notice for going against the county's order that prohibits her non-essential business from reopening.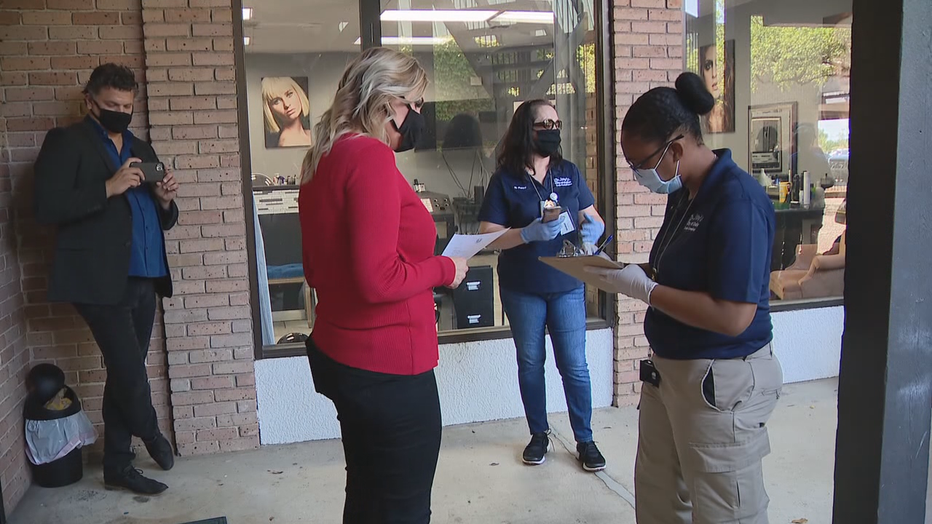 "Essential, non-essential. That's ridiculous what has been deemed essential and non-essential because right now the pet groomer next door has been essential this whole time. So pets can get their hair done but someone can't walk in my salon and get their hair cut? So why is a pet getting essentials?" Luther said.
On Monday, Judge Eric Moye granted the city of Dallas a temporary restraining order and told the salon owner to shut down immediately. He agreed the business will pose "adverse public health effects" from the spread of COVID-19.
Gov. Greg Abbott announced a plan to begin reopening businesses this week but his first phase does not include salons.
Dallas County Judge Clay Jenkins said he understands that people are hurting but that now is not the time to put the need for making money over the law of the governor, city and county.
"When people are putting their own need to make money ahead of public health, then bad things can happen to them. They can lose their license to lose business. They can lose their lease. We don't want any of those things to happen," he said.
Jenkins said no one in the state of Texas is saying it's safe to open salons right now.
Luther believes it is her right to provide for her family and allow her stylists to work.
"It's pretty ridiculous to think that our place would be unsafe. The second part of that is we're all grown adults. We decide where we want to go and if someone does not want to come in the salon, I respect that decision," she said.
Luther plans to appeal the temporary restraining order.
A hearing is scheduled for May 11 to determine if it should be changed into a full injunction, which would keep the business closed until all court matters are resolved.
RELATED: 
Dallas salon opens for business despite COVID-19 stay-at-home order