4 victims in Dallas apartment shooting named, families hold vigil
DALLAS - Family members and loved ones held a candlelight vigil outside the Northwest Dallas apartment complex where four people were killed over the weekend.
18-year-old Juan Diego Cruz, 24-year-old Lupe Cruz, 20-year-old Jasmine Borjas Santos and 21-year-old Fatima Guadalupe Alvarado Fuentes were shot and killed inside an apartment along Villaverde Avenue near Forest and Marsh Lanes.
20-year-old Azucena Sanchez and 18-year-old Artemio Maldonado have been charged with murder in the shooting.
READ MORE: 4 killed inside Northwest Dallas apartment, 2 arrested, police say
Family members told investigators Sanchez was the ex-girlfriend of Juan Cruz and the two had been in a custody dispute over their son, according to the arrest affidavit.
Grieving family members left flowers and candles Tuesday outside the apartment where four people were found shot to death over the weekend. 
Family members say Sanchez had custody of the baby boy and wouldn't allow Diego to see their child. 
Family members also say Sanchez was sending threatening messages to Fuentes for spending time with Diego.
Mariana Cruz is the sister of the Cruz brothers. She didn't hear from her brothers all day Sunday, so she came to the apartment complex and found all four victims. 
"We were not ready for this. They are my brothers. I just want them back to me. I miss them," she said. "She was crazy. She wanted Diego's attention every time. She always talking to Diego like she buying an app and calling different numbers. She told Fatima, you better go away from Diego. He's mine. We have children together. I want Diego back. Fatima said Diego just wants the baby he wants nothing to do with you."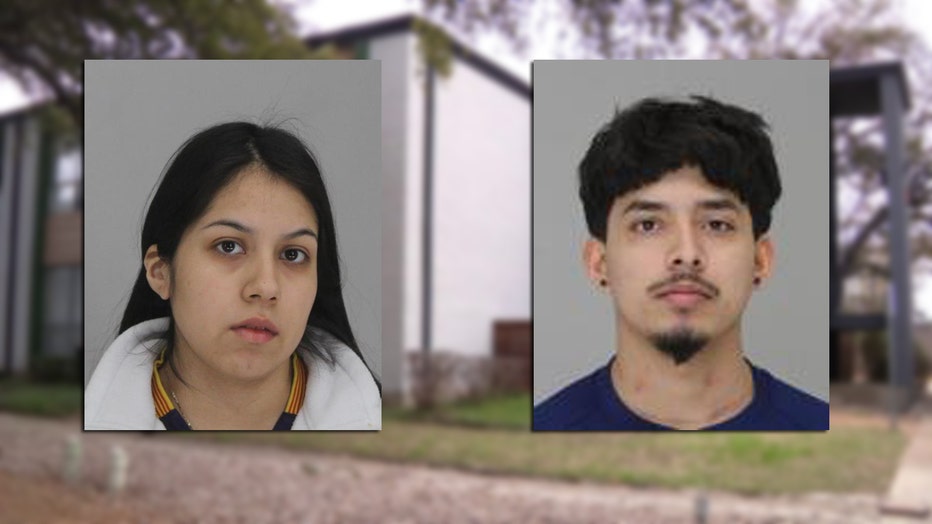 Azucena Sanchez (left) and Artemio Maldonado (right)
The Cruz family says they know Maldonado's family and they used to be family friends.
According to court documents, relatives found the victims in the apartment on Sunday night. They went to check on the victims when they stopped answering their phones.
Police arrested Sanchez and Maldonado around 10 p.m. Sunday night. Court documents say Maldonado admitted to the shootings.
Family members tell FOX 4 Lupe Cruz and Juan Cruz were brothers. Lupe Cruz's wife was one of the other victims. The other was a female friend.