VIDEO: Deadly shootout between police and suspect in Far East Dallas
DALLAS - Dallas police released body camera video of officer's deadly shootout with an armed suspect in Far East Dallas on Wednesday morning.
Police responded to a call on Shiloh Road, near Gus Thomasson Road, just before 6 a.m. about a man, later identified as 64-year-old Darrell Hibbard, in the middle of the street pointing guns at drivers and vehicles.
The body cam video shows the officers repeatedly telling the gunman to drop his weapon before Hibbard eventually opening fire on officers.
Dallas police said Hibbard shot the doors of two patrol cars and three officers fired back.
Police chief Eddie Garcia called the situation "an officer's worst nightmare" during a news conference Thursday afternoon.
"You will also see bravery with the way in which these officers handled this unfortunate and life threatening situation," Garcia said. "You will also see an officer remain in a gun battle with a suspect as she is actively taking rounds to a door that she's behind."
RELATED: Dallas police shoot and kill armed man in Far East Dallas
The first officer to arrive was Rebecca Walling.
"Put the gun down! Drop the gun!" she told Hibbard.
Before Walling was out of her squad car, parked right in front of the house, she saw Hibbard, a man with no felonies and no violent history.
For longer than a minute and 16 seconds, and more than two dozen times, she pleaded with him to drop the gun.
Officer Jason Rozenburg then approached the address from the north, and then Walling yelled as Hibbard opened fire.
Walling and Rozenburg engaged.
"I think I got hit in my leg," Hibbard is heard saying on the bodycam video.
Her left leg was injured and bleeding and her unit was taking damage from the gun battle, but she wasn't not shot
"Stay down," she told other officers.
Walling was injured, but still gave commands that police said Hibbard continued to ignore.
"As the suspect was on the ground, he was still firing or pointing his weapon at officers as it all transpired," Garcia said.
That caused the third officer, Otilo Valdez-Sanchez Jr., to fire his weapon.
"Ma'am, get back in the house," Valdez-Sanchez is heard telling a woman.
Hibbard's family members said that was his mother the officer was talking to. She was reportedly on the porch trying to get him to put the gun down.
They said he was unresponsive, almost like he did not hear her.
Hibbard was transported to the hospital, where he later died. One of the officers injured her leg, but was not shot.
"Any loss of life is tragic. This is a tragedy for the family and friends of Mr. Hibbard, but it is also a tragedy to our officers that were involved yesterday morning. This is never our intended outcome," said Garcia.
Chief Garcia said more loaded guns were on the porch, and the bomb squad searched the home after detectives were told there may have been explosives inside. None were found.
The chief wants to know more about Hibbard's history
"This is a tragedy to the family and friends of Mr. Hibbard, but it's also a tragedy to our officers who were involved yesterday morning. This is never our intended outcome," he said.
Hibbard's family said he had some mental health issues in the past few years, some paranoia, but no official medical diagnosis.
They want to see toxicology results from an autopsy to find out if there was something that could have made him act strange.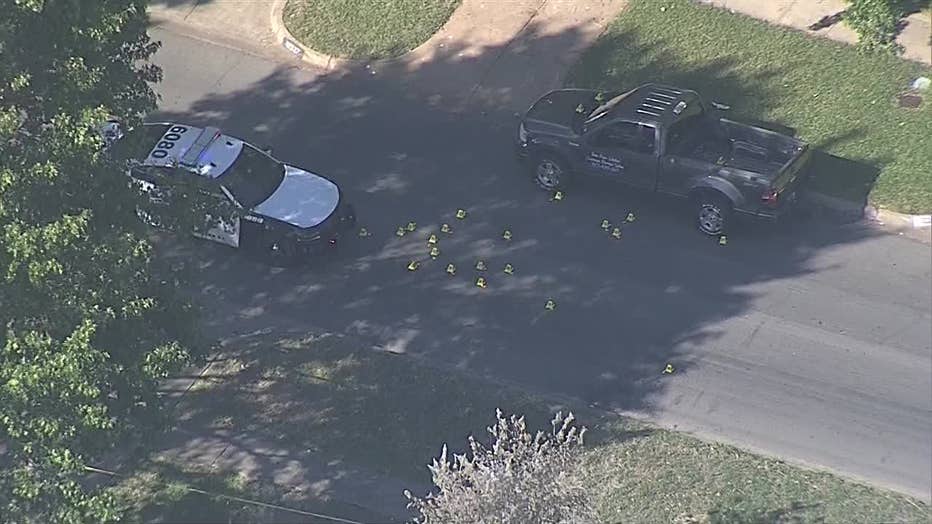 SKY 4 showed a number of evidence markers on the ground in the area of the shooting.
Officers were also seen collecting three long guns from the front porch and a pickup truck being taken away that neighbors said belonged to the dead man.
Dallas police said that Hibbard did not have a criminal history.