Dallas police officers, civilian injured after crash during police chase
DALLAS - A Dallas police officer was injured after crashing his car during a police chase on Tuesday.
Police say around 10:45 a.m. officers were chasing a stolen vehicle involved in a robbery.
READ MORE: Man arrested after leading police on high speed chase from Mesquite to Dallas
Two officers were in pursuit of a stolen vehicle after a robbery when the officers crashed into a Ford F-150 truck in the 2900 block of Buckner Boulevard.
The force of the impact prompted airbags in both vehicles to deploy.
The two officers and the driver of the truck were taken to a hospital with minor injuries. 
The suspects on the run would continue another two-and-a-half miles through East Dallas.
Ranell Louden saw the immediate aftermath of a second crash at Scyene and St. Augustine roads.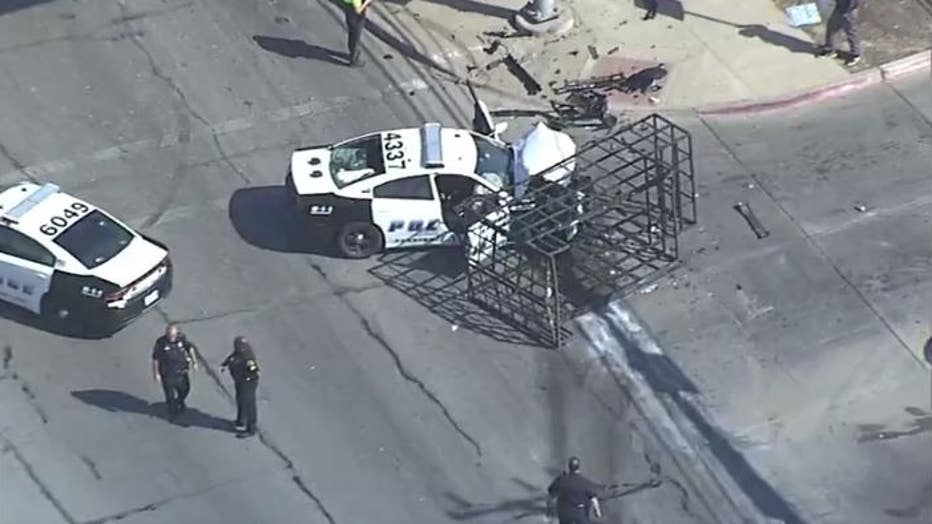 "Police came from this way, that way, this way, this way. Just out of nowhere," she recalled.
Police say the suspects crashed a Honda sedan into the crosswalk utility pole.
Louden says she saw two men get out of the car and run.
"They made the light stop working. That's how hard he hit," she said. "The airbags came out. And that's when the other guy, I don't know if he was in the drivers or passenger seat, when they got out and started running."
Two suspects were arrested. One suspect was injured and treated at the scene.