Protective vest likely saved Dallas officer hurt in shootout with murder suspect
DALLAS - A protective vest likely saved a Dallas police officer from serious injury or death during a shootout Thursday.
FOX 4 received good news about that veteran officer, along with more details about the shooting suspect who is also charged with a separate murder.
The officer who was struck in his bulletproof vest is out of the hospital. He is at home recovering and is said to be in good spirits.
The man accused of shooting him, 45-year-old Juan Vincente Zavala Lopez, sits in the Dallas County Jail.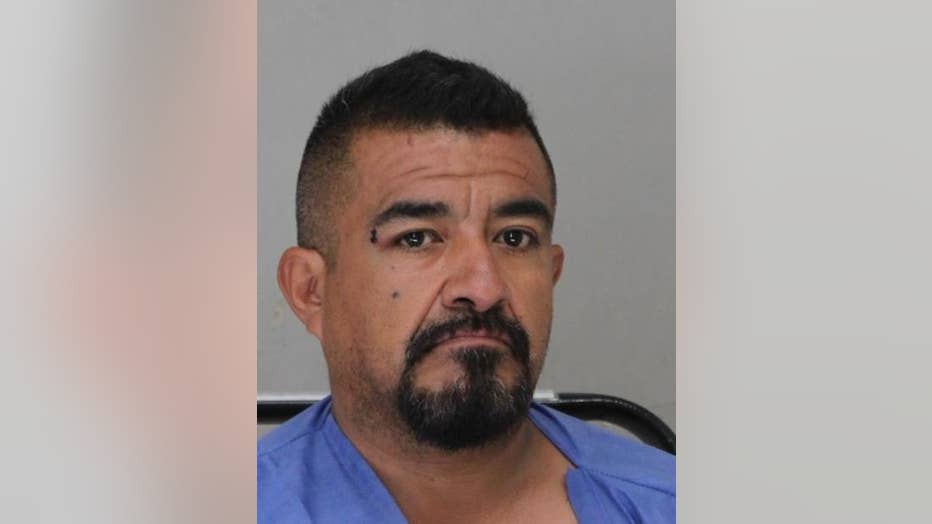 Juan Zavala Lopez (Photo: Dallas County Jail)
Police said Lopez fatally shot another man Thursday afternoon, before firing at Dallas PD officers who had just arrived on scene.
"He doesn't care about the person he was shooting at, he doesn't care," Dallas Police Association President Mike Mata said.
Mata voiced his frustration about the suspect's alleged violence.
Lopez was arrested in Lewisville Thursday night.
The pick-up truck police said he was driving at the time of the shootout was towed to the Dallas PD impound lot as evidence.
The initial shooting happened just before 1:30 p.m. Thursday, in the 4800 block of Scyene Road.
Investigators believe Lopez knew the victim, who was sitting in the passenger seat of a pickup.
Two DPD officers who responded to the scene in a patrol car reported seeing the shooting and took quick action.
"What did they do? They engaged, they protected the community and did what they have to do, and thank God they're both still here," Mata said.
At some point, that suspect saw the officers and began shooting at the officers, police said. Officers returned fire at that point.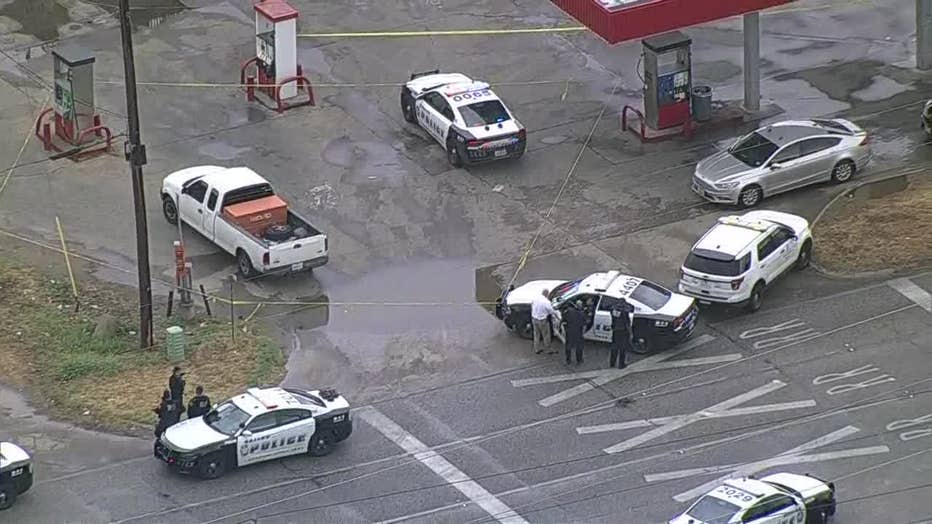 Lopez fled the scene after police said one of his bullets struck an officer in his bulletproof vest.
"He's doing good. I just spoke to him this morning. Obviously, he's very, very sore and that's natural when you get hit with a bullet at high capacity," Mata said.
Mata said the officer who was struck, as well as his partner, are seasoned veterans of the department.
"Both are very hard-working, very well respected. It just shows who they are they're ready to come back today," Mata said.
That won't happen for some time, as the investigation plays out.
Lopez, meanwhile, who has an immigration hold, sits in jail facing numerous felony charges.
"These individuals who have no business either being in this country or out of jail need to be in jail where they're supposed to be," Mata said.
Lopez is charged with murder and one count of aggravated assault in the homicide on Scyene, along with four counts of aggravated assault peace officer.
Dallas Police Chief Eddie Garcia plans to hold a press conference on Monday where he's expected to release additional details about Lopez's arrest and more about the officer injured in the incident.