Murder suspect accused of shooting Dallas officer captured in Lewisville
DALLAS - Dallas police say the suspect who they say fatally shot a man Thursday afternoon before shooting an officer is now in custody.
Police said 45-year-old Juan Lopez was taken into custody Thursday afternoon in Lewisville. He has been charged with murder, aggravated assault and four counts of aggravated assault on a peace officer.
The original shooting happened just before 1:30 p.m. when Dallas PD officers responded to a shooting in the 4800 block of Scyene Road.
Cell phone video from a witness shows the gunman first arguing with someone in a blue shirt and then drawing his weapon.
Officers reported seeing someone firing into a vehicle, where one person was later found shot.
"At some point, that suspect saw the officers and began shooting at the officers. Officers returned fire at that point," Dallas Police Chief Eddie Garcia said.
Witnesses nearby also watched this happen and took cover. Employees from inside a nearby taco restaurant told FOX 4 they immediately ran to the back of the building.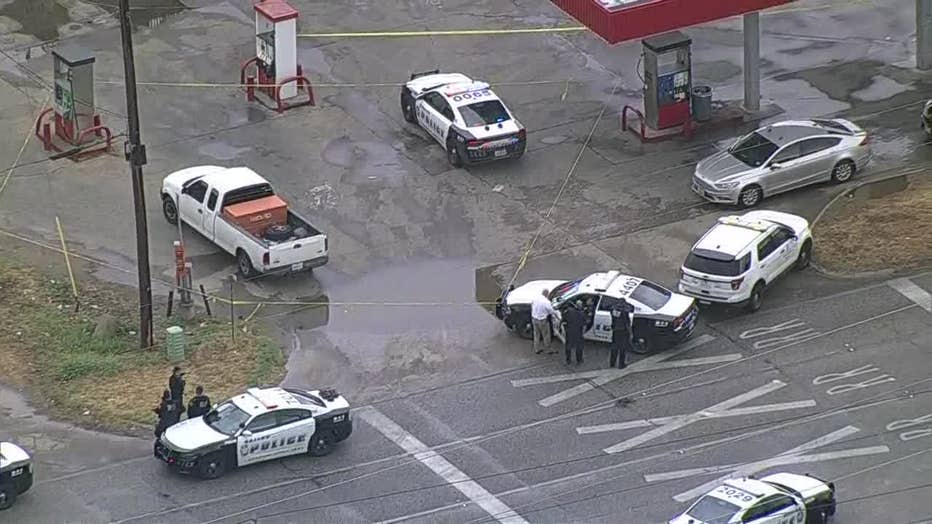 The suspect fled the scene in a truck, and officers got back in their squad car and chased him to the 4700 block of Second Avenue.
Police said the suspect again fired shots at officers, with the officers again returning fire.
"At one point, the suspect turned his vehicle and started to drive towards the officers on the other side of the street. Officers again had a shootout," Garcia said. "The suspect shot at officers. Officers fired back. At that point, one of our officers was struck by suspect bullet. Luckily, he was wearing his bulletproof vest."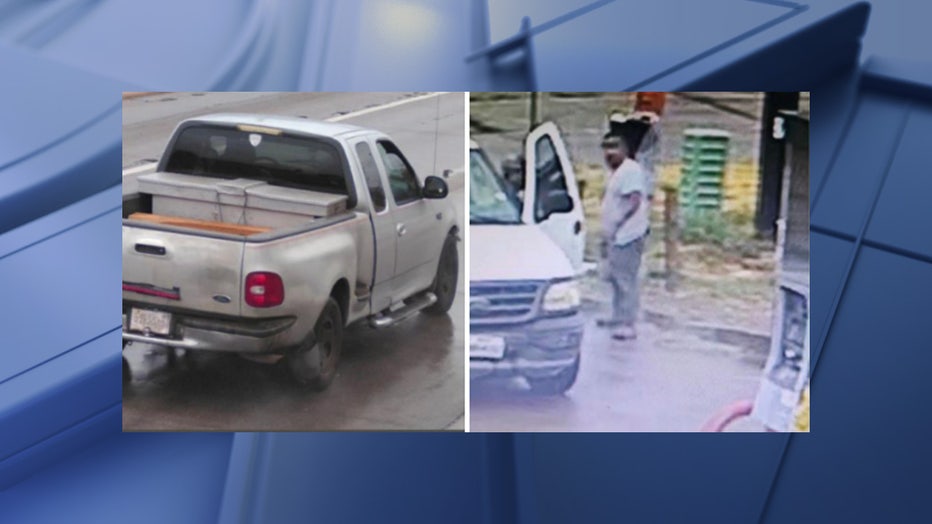 That officer was taken to a hospital, where he is in stable condition. Chief Garcia said he spoke with the officer in the hospital and he's awake and alert.
Lopez was not caught right away, so police had a manhunt before he was arrested in Lewisville.
Police released an image of the suspect by his gray pickup truck. 
Chief Garcia urged him and his family members to come forward, so it could end peacefully.
"For the individual and family, we will find you. It would behoove you to turn yourself in so we can end this peacefully," he said.
The initial shooting victim died from his injuries. The victim's name has not been released. 
Investigators said that shooting was not random. They believe Lopez and the victim knew each other.