Dallas mayor apologizes for long lines over the weekend at city vaccination site
DALLAS - Dallas Mayor Eric Johnson promised the city will do better after long delays and confusion at the Kay Bailey Hutchison COVID-19 vaccination site.
City officials addressed several issues that led to a rocky start to the vaccine rollout. They say thousands of people made unauthorized appointments which led to a massive traffic backup and long waits.
"To all of those who waited in line for hours on end, I want to say I'm sorry," Johnson said. "We are sorry."
The mayor said there continues to be a problem with people sharing links to make an appointment for a vaccination. Those who try to make an appointment without a specific invitation from the city are being turned away after waiting in line.
The city is working to address the appointment issue, but city officials say it will take at least a couple of days.
The city faced a similar issue that Dallas County had previously at its vaccine rollout in Fair Park, where appointment links were forwarded on to people not eligible for the vaccine yet were still able to make appointments.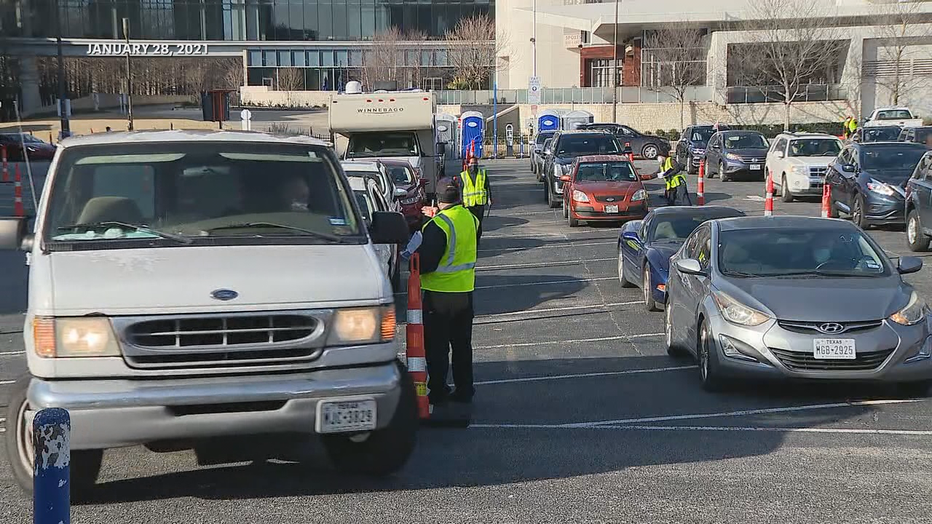 The city also says others believed they could just get in line to get a vaccine without an appointment, adding to the long lines.
"We were not able to weed out enough people who made unauthorized appointments. We had thousands of them," Johnson said.
The issue has been a problem since day one of the rollout at the convention center but came to a head Saturday as the city aimed to vaccinated 2,700 people in one day. It was a goal city officials acknowledge may have been too ambitious.
"We knew we had a challenge on Saturday. We know what our capacity here is. We cannot do 2700 a day, especially downtown," said Rocky Vaz with the emergency management officer. "We're lucky that happened on a Saturday. We didn't want it to happen, a gridlock on a weekday, going forward."
But there is also confusion among residents about how the process is supposed to work. People we spoke to described long waits, confusion among staff and being turned away even after getting multiple confirmations of what they thought were valid appointments.
"If you weren't invited to make an appointment by the city of Dallas and you will know if you were invited by the city of Dallas, then I'm asking you to please not come," Johnson said.
Moving forward, the city is partnering with Methodist Health System to help with distribution.
Methodist will be distributing 3,000 vaccines Thursday and Friday while the city will distribute about 2,000 vaccines on Wednesday and Thursday by appointment only.
"We will be able to notify people electronically of appointments," explained Methodist Health System COO Pam Stoyanoff. "We'll have an ongoing system that will call them. And if they answer the phone and accept the appointment, they'll be scheduled."
Johnson said he believes the partnership will help the city distribute vaccines faster and more efficiently.
"I am proud that we were able to give out 5,000 doses of the COVID-19 vaccine last week, and we remain dedicated to inoculating as many people as we possibly can — and to scaling up our efforts as we move forward," he said.
Again, the vaccines are distributed by appointment only, and you can register on Dallas County's COVID-19 vaccine website. 
City officials stress you must have an appointment invitation from Methodist, the city of Dallas or Dallas County in order to make a valid appointment.