Dallas Mavericks ban two fans following incident with Chris Paul's family
DALLAS - The Dallas Mavericks have banned two unruly fans who tried to hug Phoenix Suns point guard Chris Paul's family and have unwanted conversations with them on the concourse.
Both fans are now banned from the American Airlines Center until 2023.
Viral cell phone video shows the fan being kicked out of Sunday's playoff game against the Suns over an incident with a player's family. 
Multiple videos are circulating on social media, but none of the videos we've seen show what happened on the concourse before the fans were ejected.
Barry McCary was sitting behind Paul's family at Sunday afternoon's playoff game when he noticed commotion and started recording.
"When I looked over, first thing I saw was Chris Paul's dad on the floor," he recalled. "That's when I looked over. He was trying to get his attention, and then he was just mentioning some words and pointed at the kid. And then I started recording from there."
McCary says he didn't see what happened immediately before he started recording, nor did he notice any problems throughout the game. 
"I can't speak for what I didn't see," he said. "I started recording after the fact of whatever did happen physically. But I did see Chris Paul's dad get his attention and say, 'Hey, he touched your mom.'"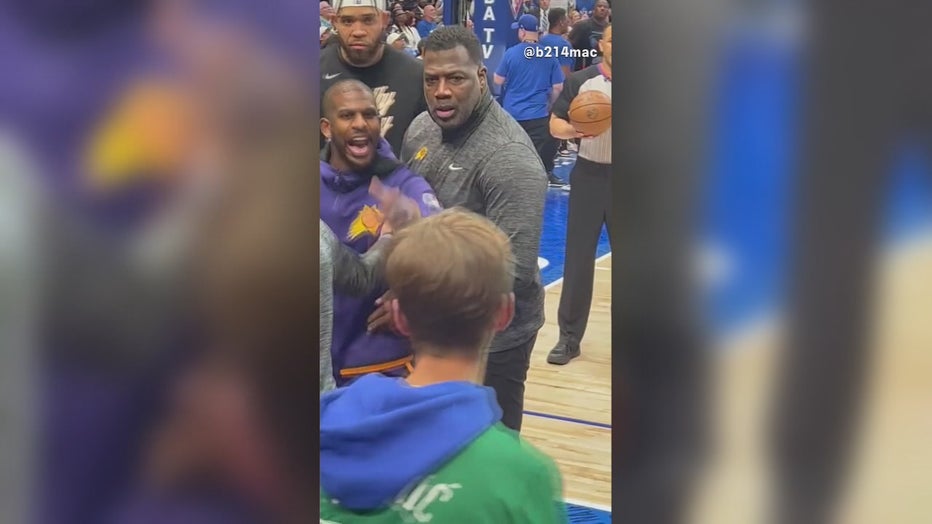 ESPN reported the fan put hands on Paul's mother and that Paul's wife was pushed in front of his kids.
McCary's video shows the young man in a Luka Doncic t-shirt and a woman escorted out by security as Paul attempted to confront them. He says Paul's mom did not return to her seat after the incident.
Paul also tweeted after the game what appeared to be a swipe at the NBA. He said in part: "wanna fine players for saying stuff to the fans but the fans can put their hands on our families."
It is worth noting the league enacted a zero-tolerance policy against unruly fans last season after several incidents of fans being verbally abusive to players.
Suns Head Coach Monty Williams reacted during practice Monday.
"It's a hard one because it's happening more and more," he said. "And the situations are getting to a place now where I really feel like families who are in to support their loved ones need to be protected a bit more."
In a statement Monday, the Dallas Mavericks organization said, "Two unruly fans attempted to give unwanted hugs and have conversations with members of the Paul family on the public concourse of American Airlines Center. AAC security responded immediately once notified by the family and the fans were swiftly ejected from the game.  The fans involved in the incident will not be allowed to return to the arena until 2023."
With limited video and a limited statement from the Mavs saying the unwanted hugs happened on a public concourse and not in the seats, there are some unanswered questions, including where the other fan is who was ejected besides the one in the Luka t-shirt.
Paul did not speak to the media Monday, only appearing in a video posted by the NBA on Twitter to celebrate Williams winning the league's coach of the year award.
Williams says he has never had any bad experiences like this in Dallas. 
"Yesterday was unnecessary but certainly not indicative of the fans I've dealt with in Dallas," he said. "But usually these are isolated incidents, but they do happen. And they seem to be happening more and more."
Dallas police say they were never contacted in response to the incident. 
The Mavericks say the investigation has concluded. 
Moving forward, Williams thinks families at away games should be in a specific protected section. 
"Whether or not we have to give these people, our families, a section or suite, something has to be done," he said. "Because we can't wait for it to get to a level or two higher."
The identities of the others involved have not been confirmed.
FOX 4 has attempted to reach them through phone calls and social media but so far have not gotten a response. 
The Suns return to Dallas on Thursday.