Dallas man accused of attacking multiple women over 5-day stretch arrested in Mesquite
GARLAND, Texas - Police in Garland and Mesquite say the same man attacked three women over the course of a week. One of the victims says he broke into her home and raped her.   
Justin Dejohn Smith, 39, is facing aggravated kidnappings, aggravated sexual assault, and aggravated robbery charges in Garland and attempted murder, evading arrest and unlawful restraint in Mesquite. Police worry there may be more victims out there.
"He located women that were alone. He isolated them, tried to start a conversation with them and ends up attacking them unexpectedly," said Mesquite Police Lt. Brandon Ricketts.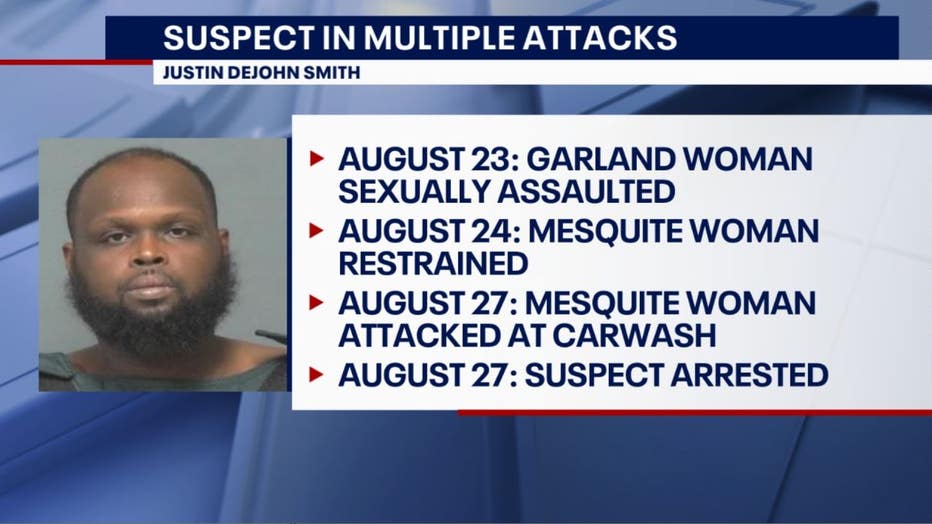 The first attack happened in Garland last Tuesday at the Saddletree Apartments on Duck Creek Drive near Oates Road. The victim was alone inside her apartment.
"He entered into a woman's home, assaulted her—physically and sexually— and then stole her car. Very violent offense.," Ricketts said.
The woman told police she'd never seen her attacker before.
Then the next day about eight miles away in Mesquite, police say Smith approached a woman in the parking lot of the Spanish Lagos Apartments near Highway 80 and 635.
Police say he asked her for directions. When she responded, police say he opened her car door and started choking her. She honked her horn, and police say he ran off. 
READ MORE: Dallas man carjacked, murdered someone before bizarre arrest on I-35, police say
Learning about the attack is unsettling for Richard Pineda, who lives at the complex with his young children.
"My little girl comes out here sometimes to get stuff out of the car. My baby mama comes out here a lot of times, too. There's a lot of single women out here," he said. "Kind of hits a little too close to home."
Then on Saturday morning just a few miles away on 635 and Oates in Mesquite, police say Smith started to choke a woman who was washing her car at this carwash. A witness saw what was happening and chased Smith away. Officers tracked him to a nearby apartment complex and arrested him.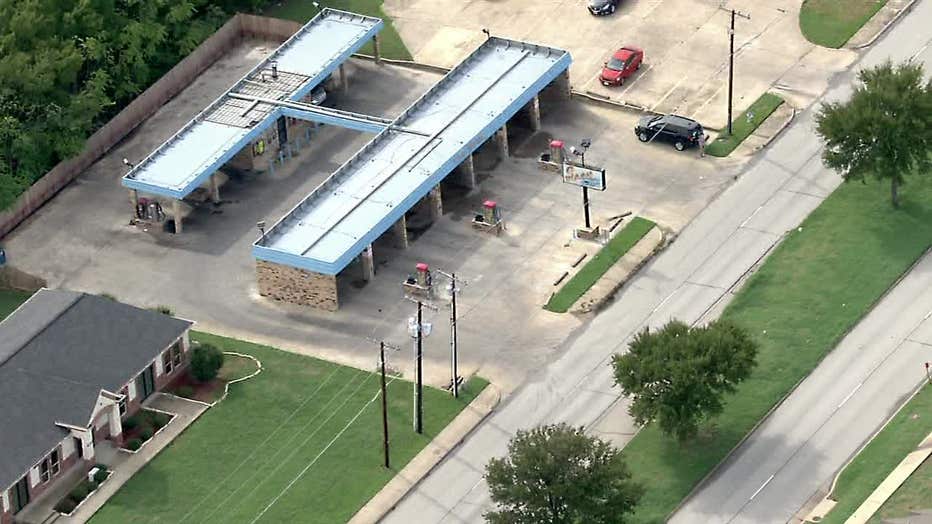 READ MORE: Kidnapping suspect killed in shootout with Rockwall police
"If you are approached by someone, lock your door and try to leave," Ricketts said. "And if you can't leave, call the police."
Smith has an extensive criminal history dating back to 2006 with dozens of criminal filings, including assault, drug and weapons charge and several prior felony convictions.
Mesquite and Garland police are asking if there are any additional victims, or if anyone has had recent contact with Smith. They are asking anyone with information about previous offenses in Garland to call 972-205-1672 and anyone with information about previous offenses in Mesquite to call 972-216-6704.