Dallas ISD to ban TikTok from district WiFi, devices
DALLAS - Dallas ISD confirmed Friday that the district is planning to ban TikTok from being used on its WiFi and on district devices.
In a letter to parents, DISD cited concerns about cybersecurity related to TikTok's Chinese owners.
"Federal and state officials recently determined the video-sharing platform TikTok poses a serious security risk," the district said in the letter.
Dallas ISD is just the latest Texas school district or university to ban access to the app.
"We wanted to ensure that we were doing what we needed to do to further protect that, for not only our students on our own infrastructure and devices, but also to better protect all information that comes our way," said Robyn Harris, with Dallas ISD.
Harris said this decision was solely based on protecting the district's network security, and the district doesn't plan on denying access to other video sharing or social media platforms.
"These are only added measures so we can further secure and protect, not only our network, but their information as well," Harris explained.
In December, Governor Greg Abbott ordered all Texas state agencies to ban the use of the social media platform TikTok on any government-issued devices.
The district said this isn't directly related to Gov. Abbott's directive to state agencies to ban the app on government devices.
It said it acted on its own, citing "cybersecurity."
READ MORE: Gov. Abbott orders TikTok ban for all Texas state agencies
Several Texas universities have also banned the social media app from campus WiFi.
Many other states and groups have put similar bans in place.
READ MORE: TikTok algorithm mystery: What we know, and don't know, about the Chinese government's control of the app
TikTok, is owned by the Chinese company ByteDance Ltd., and Chinese law mandates that companies share their data with the Chinese Communist Party upon request.
Roughly two-thirds of American teens use the app.
"Experts believe the cybersecurity risk stems from the belief that TikTok's parent company tracks data from users—including when, where and how a person uses the internet—that could be used to share sensitive information and ultimately harm our IT infrastructure," said the district.
Dallas ISD students left school Friday with a letter from the district notifying parents that effective immediately, the popular social media app TikTok cannot be accessed on devices connected to the district's WiFi network.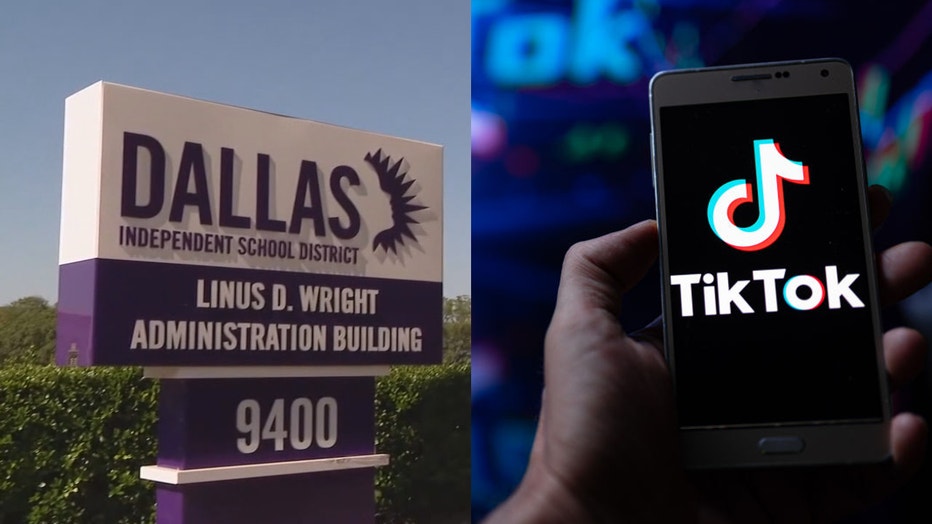 "There are some times where I wish we didn't have social media, because I can't monitor what my son sees on social media," Tartisha Phillips, who is a parent of a 7th grade student.
She and others FOX 4 talked to did not have a problem with the district's move. 
"I do not think kids should be on social media during school hours or at school," Phillips added.
Phillips said if it's true that officials believe private information is at risk, the app should not be in schools. 
"To me, TikTok is very informative, you can learn a lot on TikTok," Phillips said. "It's good and bad with it. I am not okay with them sharing our information." 
FOX 4 reached out to other North Texas school districts. 
Only Arlington ISD responded, saying they already ban all social media on campus WiFi.