Dallas Greenville Avenue St. Patrick's Day Parade set to return for 2022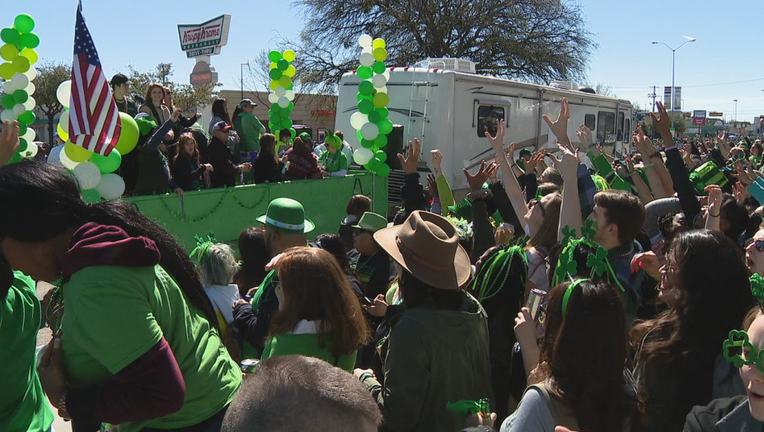 article
DALLAS - The Dallas Greenville Avenue St. Patrick's Day Parade is back on after a two-year absence due to COVID-19.
The annual event on Greenville Avenue will take place on March 12. Culture Map Dallas first reported on Monday that the parade will return for 2022.
It will start at Greenville Avenue & Blackwell Street around 11 a.m. and finish at SMU Boulevard near Central Expressway.
The parade was one of the first cancellations in North Texas at the beginning of the pandemic in 2020. Organizers also opted to call off the 2021 edition, as vaccines were still rolling out but were not widespread at the time.
Dallas Mavericks legend Dirk Nowitzki will be the grand marshal for the parade. The block party and concert afterward will feature the Toadies. 
"Every year we look forward to one of the biggest events in Dallas, the St. Patrick's Parade, and this year we are thrilled to once again partner with the Mavericks and Dallas' own Dirk Nowitzki to bring that vision to life," said Kevin Vela, Board Chairman of GAABA. "The Mavs organization has been our number one sponsor for many years and a phenomenal parade partner. We're proud to work together to bring top-notch family-friendly entertainment to the community while making a valuable contribution to area youth through our educational scholarship fund."
The parade is largely underwritten by Dallas Mavericks owner Mark Cuban, who has given at least $50,000 annually the past decade to help cover costs.
RELATED:
Dallas Greenville Avenue St. Patrick's Parade canceled in 2021, but expected to be back in 2022
City of Dallas cancels Greenville Avenue St. Patrick's Parade due to coronavirus worries