Dallas County reverts back to highest risk level for COVID-19 threat
DALLAS - Dallas County is returning the county's COVID-19 risk level back to red.
The color-coded alert-style scale for measuring the spread of COVID-19 in Dallas County was first introduced back in May.
Just six weeks ago, Dallas County Judge Clay Jenkins announced the county's risk level was lowered from the highest red "Stay Home Stay Safe" to the orange "Extreme Caution."
After reporting another 504 COVID-19 cases on Wednesday and an increase in hospitalizations, Judge Jenkins said health officials recommended returning to the red risk level.
Under the highest risk level, residents are urged to stay home unless they were performing essential activities.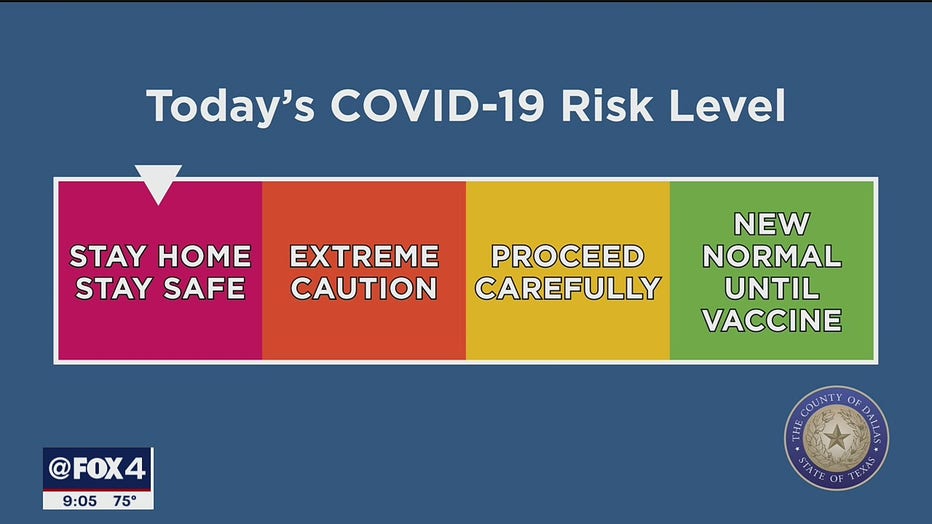 "The color-coded chart from the Public Health Committee is intended not to tell you what is legal, but rather what is safe," Jenkins said in a press release.
READ MORE: Dallas County introduces alert-style scale for COVID-19 risk level
"Since Sept. 25, we've seen a 27% increase in emergency room visits for COVID-19, a 27% increase in hospital census for COVID-19 illness and a 44% increase in hospital admission for COVID-19," explained Dallas County Health Director Dr. Phillip Huang.
Dr. Huang says the recent spike is likely due to schools and colleges reopening and more bars and restaurants opening.
As virus numbers trend upward, preparations are underway at the Kay Bailey Hutchison Convention Center. Starting Thursday, Mecum Auctions will welcome 2,000 people over the next three days. Masks are mandatory.
"Everything from masking, to dividers, to making sure the floor is marked so that people are six feet apart," said Rosa Fleming, with the convention center.
There are social distancing barriers in bathrooms and sanitation stations and signs throughout the venue.
Fleming says if things remain safe, there will be five more conventions from November to December.
"There's an impact on food a beverage for restaurants, on people going out to eat and going to our retail. So it's kind of a ripple effect," she said.
A month ago, 322 people were in Dallas County hospitals. On Tuesday, there were 367. A month ago, the positivity rate was 11 percent. Right now, it's 10%.
The latest UT Southwestern Medical Center coronavirus forecasting model shows that by the end of next week, Dallas County will have more than 900 new cases of COVID-19 each day.
Dr. Huang says he is not making any recommendations on schools, but he says everyone needs to do their part before things get worse with flu season set to start.
"We know what to do," he said. "If everyone stays vigilant, we know we can also turn these numbers back down. But it takes everyone to keep doing it."
The increase in the risk level comes as early voting just kicked off this week. However, Judge Jenkins said no cases have been linked to polling locations and urged people to continue voting.
RELATED: How to vote in Texas