Dallas County introduces alert-style scale for COVID-19 risk level
DALLAS - Dallas County Judge Clay Jenkins announced on Monday a new system for measuring the spread of COVID-19.
The color-coded alert-style scale has four different levels and was created, Jenkins said, by a public health committee with input from hospital personnel. It gives recommendations for what people should do during the pandemic. They are not requirements.
Dallas County matched the record for the most number of COVID-19 cases reported in a single day on Monday, 253. While the new reported cases were as high as they have ever been, county officials say there are signs that the spread is leveling off.
Judge Jenkins says for the last seven days, new coronavirus cases numbers have remained high but overall flat. It's signaling the county may have arrived at its predicted peak.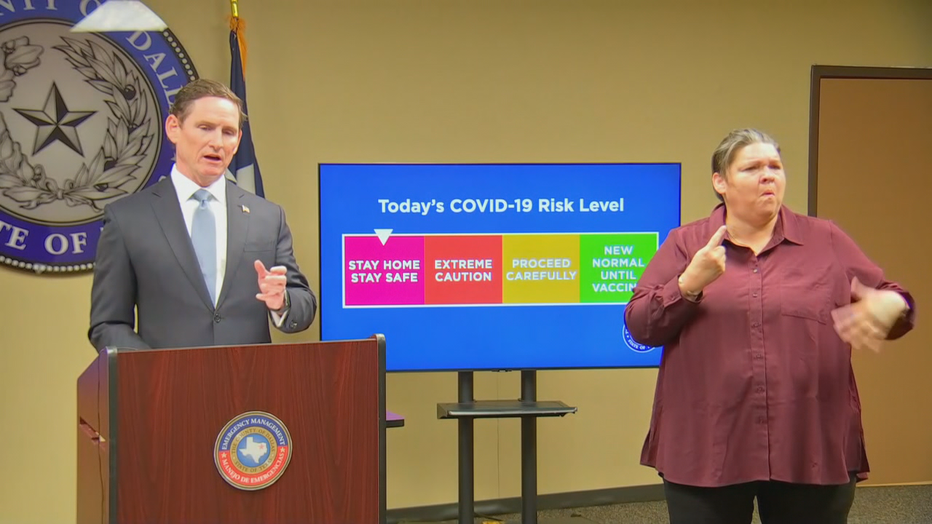 "There is some silver lining to that high cloud. We have seen that case number hang out around 250," Jenkins said. "It's too early to say, but we could be at that plateau."
County health officials have said they're looking beyond the daily new case numbers. They're also tracking the imprint of the virus based on hospitalizations, ICU beds and deaths.
In the newly unveiled color-coded system, red is the current and highest concern level. It's a recommendation to stay home unless your performing essential activities.
Orange and yellow call for more relaxed guidance, with green at the lowest threat level. They are recommendations and not requirements.
LINK: Dallas County Risk-Level Scale 
"It's your decision. This is a guidance," Jenkins reiterated. "These are recommendations from doctors. These aren't orders."
Dallas County Health and Human Services Director Dr. Philip Huang says the county won't recommend a lower 'threat level' until there's a 14-day decline in ER visits and ICU beds being used for COVID-19 patients.
"For all of these, we are watching them every day," Huang said. "We are waiting for the 14-day decline, then the recommendation will move from Stay Home Stay Safe to the orange extreme caution."
In the city of Dallas, where cases are the most widespread, about 13 to 14 percent of people tested are testing positive.
The statewide average is half as much. The governor has said the statewide average is one reason why he began reopening the economy.
Meanwhile, the county may lose about a thousand tests a day. The two free testing sites at the American Airlines Center and Ellis Davis Fieldhouse will lose federal funding at the end of the month.
"They are pulling back from testing at the end of this month," Jenkins said. "But we are going to find ways to keep that going."
Dr. Huang says the county does not have the manpower to keep up with the recovery rate by checking all 6,000 people who tested positive to see if they have recovered.  But he says if they are not in the hospital and no longer showing symptoms, they are assumed to have recovered.