Dallas County expands COVID-19 testing for retail workers
DALLAS - Dallas County is now allowing workers at grocery stores, like Kroger and Walmart, access to coronavirus testing.
Judge Clay Jenkins announced the change Monday morning. He said testing at the Ellis Davis Fieldhouse and American Airlines Center is now open to all grocery, big box stores and other essential in-person retail store workers regardless of if they have symptoms.
Dallas County's top health official says the more testing there is, the better picture they will have to determine if the spread of the coronavirus is increasing or on a decline.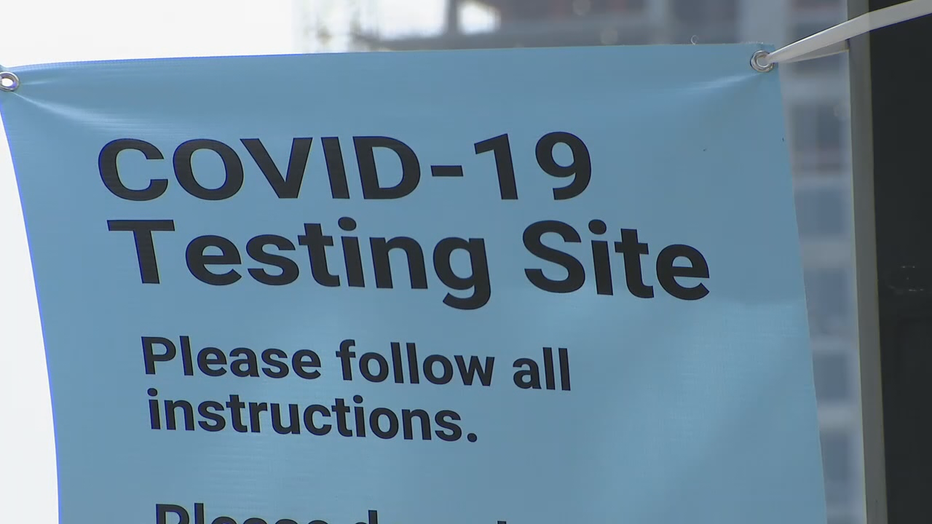 The two testing locations have been open for healthcare workers, first responders, people over 65 and those with underlying conditions even if they are not showing symptoms. Anyone else needs to have a fever of 99.6 or higher to qualify.
RELATED: Coronavirus coverage
Jenkins said doctors and hospitals are still pointing to late April or early May as the peak for cases in Dallas County. He said he's eager to get the local economy back up and running but believes that needs to be done in stages to avoid another wave of people getting sick.
"What you want to do is you want to be able to test around what you did and see if that's working. If I open one thing on Monday, one thing on Tuesday, 10 things on Thursday and another five things the next Thursday, there's no way to know which one of those things worked and didn't work if you have a spike in cases," he said.
Jenkins said more testing is still needed. It will be expanded in the coming days.
About 100 mobile tests can now be done daily at nursing homes for people most vulnerable to the coronavirus.
Dr. Phil Huang, Dallas County Health and Human Services Director, says testing is the only solution to monitoring the spread of the coronavirus.
"It's critical for us, moving forward, for us to then monitor the situation as we move forward and make sure things don't go too quickly," he said.
More than half of the 60 COVID-19 deaths happened last week. But on Sunday, there were no reported deaths. It's the first time in nearly two weeks. Monday also saw no new deaths.
READ MORE: Dallas County adds 84 new COVID-19 cases, no new deaths for second day in row
"That's great news, but we want to see things continue," Dr. Huang said. "No one thinks we are all over things at this point."
Herron Mitchell is the director of practice operations for Parkland Health and Hospital System. It assists Dallas County in operating the federally sponsored testing sites. He says testing helps officials identify hot spots.
"If you take a look at the heat map, its DeSoto, so that you can put your resources there," he said. "The more testing available, the more information you have to put your resources to impact the curve. "
Huang also believes the peak will happen next week or early May. He says it doesn't mean deaths or cases will skyrocket. It could just mean consistent high numbers before cases decrease.
"It may be this steady consistent level and starts going down again," he said.
Huang says now more than ever people need to reduce the amount of trips you make to stores. He says stay home as we near the peak.
With the exception of a handful of private sites, a strict protocol remains intact for COVID-19 testing in Tarrant County.
People concerned they may have the virus, with symptoms such as a cough or fever, must first contact a physician or urgent care facility. The medical provider, in turn, determines if a test is warranted.
On Friday in her daily Facebook update, Mayor Betsy Price discussed with Dr. Keith Argenbright of UT Southwestern Moncrief Cancer Institute the importance of a broader testing landscape.
Just before that exchange, FOX4 caught up with Price and she elaborated.
"Testing is not as robust as I would like for it to be but it is getting there. We are about to announce the expansion of one testing site and two new ones that'll be coming online. Having a robust testing program is going to be critical to reopening the community," Price said.