Dallas County adds face covering requirement, reports 7 deaths & 80 new COVID-19 cases
DALLAS - Dallas County reported seven deaths and 80 new COVID-19 cases on Thursday as officials issued new guidelines to go into effect Saturday that will require face coverings for people going out to essential businesses or using public transportation.
The county has now passed the 2,000 case mark for the virus and Judge Clay Jenkins asked the public to continue to limit trips and outings.
The seven deaths included three people who lived at long-term care facilities in Dallas (man in 70s, man in 80s, woman in 80s. The others were two Dallas men in their 60s, Dallas man in his 70s and Garland woman in her 70s.
Dallas County now has 50 deaths and 2,066 cases.
"There are a lot more cars on the roads this week. That's a concern. If a few of us slack off on making good personal responsible decisions we not only put #publichealth at risk but are prolonging this for ourselves and everyone" Jenkins said in a statement.
Jenkins said all people will be required to wear a mask or face covering while patronizing essential businesses or riding public transportation beginning Saturday.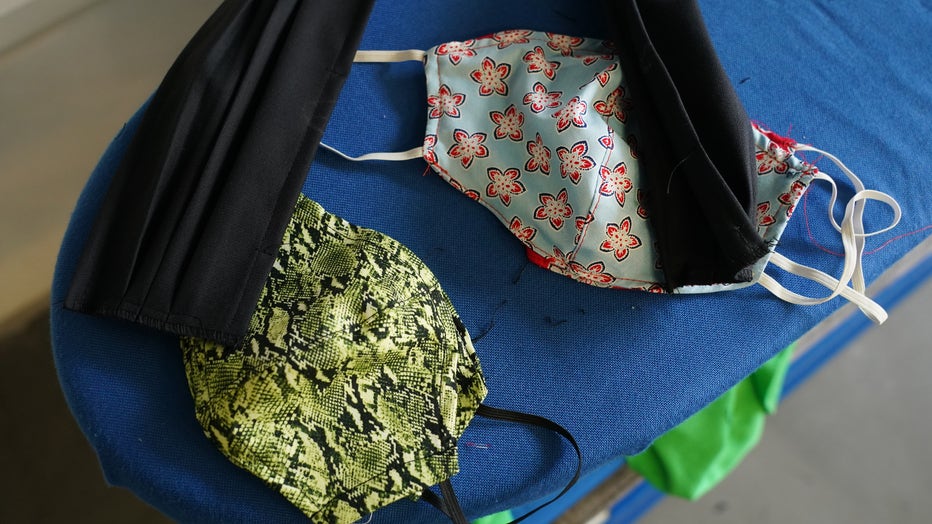 (Photo by Sean Gallup/Getty Images))
"An owner or operator of an essential business may refuse admission or service to any individual who fails to wear face covering," the order says.
RELATED: Coronavirus coverage
Jenkins says doesn't want people to think the measure means anything is getting worse. He says the curve is flattening in the county and the requirement will help even more.
Any sort of covering cloth will do, Jenkins said. He showed examples of pillowcases, scarves and bandanas that could be re-purposed into a face covering during an evening press conference.
People do not need to wear the face coverings if they are simply walking down the street, exercising or driving.
Health Director Philip Huang says the goal of the coverings is to prevent people who don't know they're sick from passing along the virus.
"And so this prevents that spread from someone who doesn't have symptoms," he said. "It was initially thought that it was only when you had symptoms that these droplets and things were transmitting."
The county calls this a proactive measure.
"It's human nature to take your foot off the gas when you feel like you have a lead," Jenkins said.
Jenkins said he doesn't anticipate police enforcement for the masks. However, the order gives law enforcement in Dallas County the ability to fine people up to $1000 and/or jail time up to 180 days.
One of the first communities in Texas with a similar order was Laredo. The city, a key border crossing and high-traffic trade area, issued its mandatory face-covering order in early April. It also mandated regular cleanings of public areas like city parks and implemented a curfew. But it is enforcing its order with fines. 
Similar guidelines have been issued for the Austin area and the San Antonio area.
Tarrant County announced 103 new cases, its highest single-day increase yet. The county also reported four more deaths: a Fort Worth man in his 60's, Fort Worth man in his 40's, Mansfield man in his 40's and another man in his 60's. All had underlying health conditions.
Denton County reported its 15th death, a flower mound man in his 60's along with 17 new cases.
Collin County reported its 11th death, a 93-year-old McKinney woman along with 11 additional cases.