Dallas City Council approves new Fair Park master plan
DALLAS - The Dallas City Council unanimously approved a new vision for 277 acres at Fair Park with the 20-year goal of making it a year-round destination.
The Fair Park master plan has a look similar to the popular Klyde Warren Park and adds more green space to South Dallas.
And leaders said the drawings that show huge areas of green space and gathering areas are only the beginning.
The first phase focused on the southeastern end of Fair Park where decades ago the homes of Black families were demolished to make room for parking.
A 14-acre community park will be built there along with a children's play area, bike trail and pavilion.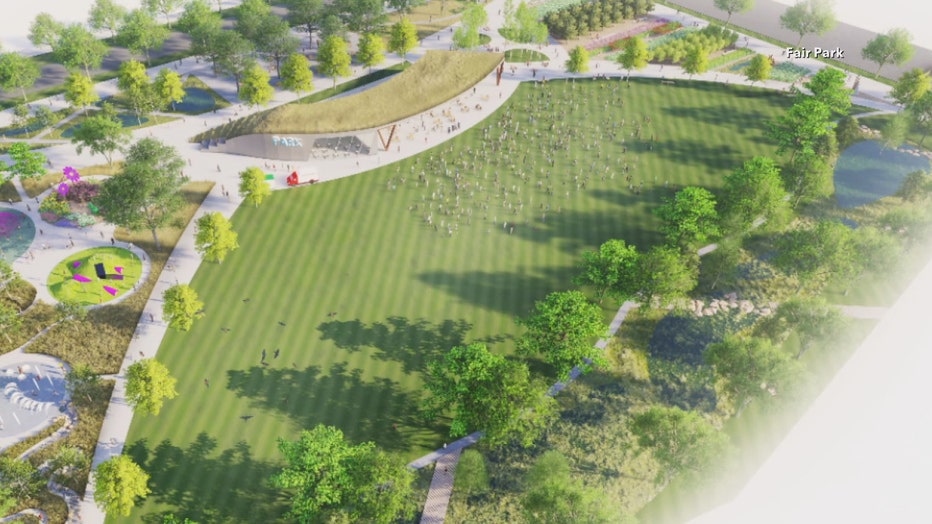 The city must raise $58 million in private funds for the first phase.
Now that the master plan has been passed, an award winning international design firm will soon be announced.
It's believed more detailed plans will really bring excitement, and that is definitely needed to help raise the $56 million needed to make it happen.
"Goals are lofty, audacious, not leading from position of conservatism. We want this to be next level, something world class, and something that lasts for generations," said Brian Luallen, who is the executive director of Fair Park First. "You have an area that once was a thriving minority community taken away through eminent domain, bulldozed to create these parking lots."
Five years from now, he said the huge parking lot by the Dos Equis Pavilion will be transformed.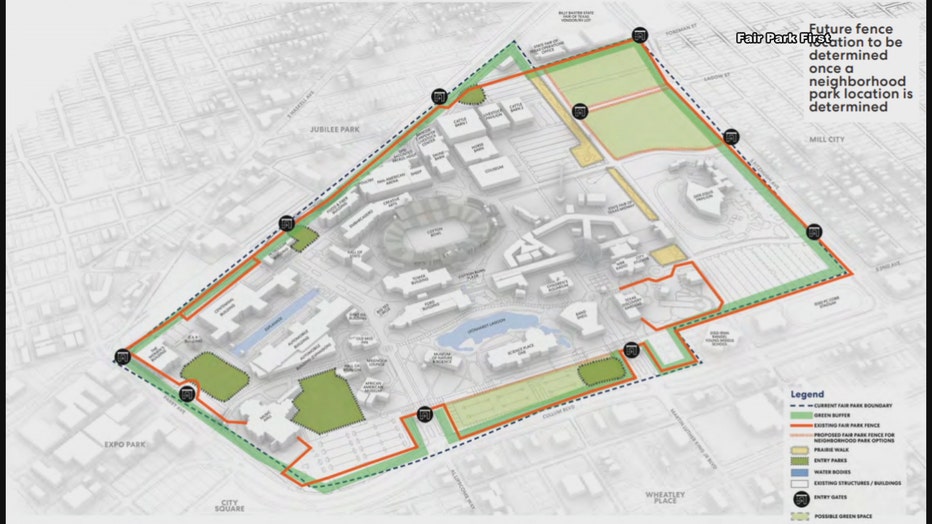 "We'll be coming in here to create green space, built on southern idea of the front porch, transitional area that connects to your home, affords connections to nature, area to gather and be together as a community," he explained. "All ages, all income levels, all backgrounds, all ethnicities, and that is a profound change for Fair Park."
The goal is to turn this space into a large lawn, children's play area with water feature and a pavilion for gatherings. Everything from fitness classes to outdoor movies.
"Repairing wrongs done in our past, gives me hope for future," Dallas City Councilman Adam Bazaldua said.
The Dallas City Council passed the master plan unanimously.
"I know we have a lot of money to raise, but this master plan gets us one major step closer to a year-round destination," Dallas Mayor Eric Johnson said.
While funding for the children's aquarium at Fair Park was cut out of this year's budget, Councilman Bazaldua said he found money to save it.
"I will have to say no comment, exciting movements related to Aquarium, still early, hope to hear good news in coming weeks," he said.
Fair Park First has raised $2 million of the $58 million needed for the first phase.
"There are a number of leaders in Dallas waiting for this sign that the city truly supports this vision," Luallen said.
Fair Park First has already held 600 community meetings to develop the master plan.
They now plan to hold additional meetings as the landscape architect constructs more concrete plans.