Dallas artist's t-shirt playfully mocks city's bike share clutter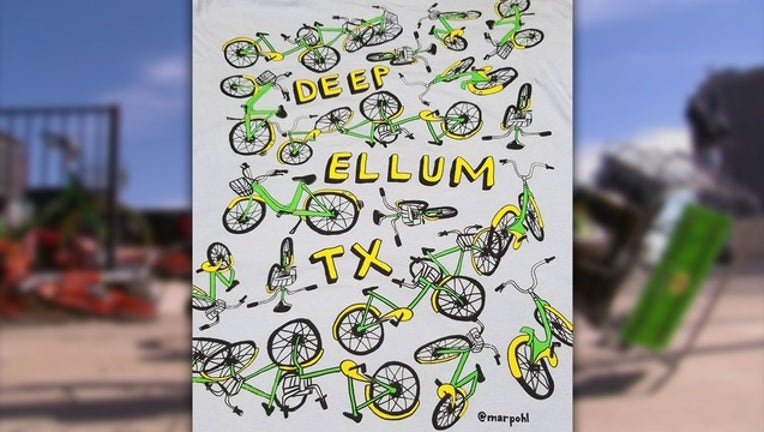 A Dallas artist is getting plenty of attention online for her tongue-in-cheek shirt design dealing with the city's bike share problem.
For Mariel Pohlman's t-shirt design, she wrote 'Deep Ellum TX' surrounded by a sea of cluttered LimeBikes.
The design mimics the dilemma the city of Dallas has been dealing with ever since the bike share program came to North Texas. As it stands, there are more than 20,000 colorful bikes from different companies scattered across the city. The majority of the bikes can be found in Downtown Dallas and Deep Ellum.
The bike share program has gotten mixed reaction from city officials and residents, but Pohlman believes it's doing more good than harm.
"A lot of people think they're an eyesore, but I think they prove that bike sharing is viable in our city," the artist told FOX 4. "Having more bikes out on the road, even LimeBikes, strengthens the bike community and makes cars more aware."
The t-shirt design will go on sale for $20 this Friday at the Lewellyn's Print Shop booth during the Deep Ellum Arts Festival that runs from April 6-8. A portion of the t-shirt sales will go to the Deep Ellum Community Association.