Consulting firm studying loose dog problem in Dallas seeks public input through online survey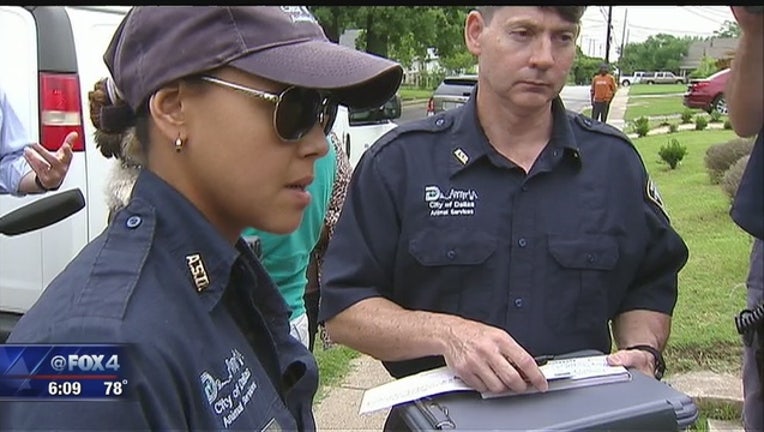 DALLAS - Consultants tasked with studying Dallas's loose dog and animal welfare problems are seeking public input through an online survey.
The Boston Consulting Group (BCG) Survey on Loose Dogs and Animal Welfare in Dallas is one part of the firm's 11-week study intended to result in recommendations to the city. The study is being funded through private donations, according to the city.
The study comes after Dallas resident Antoinette Brown was mauled to death by a pack of loose dogs in South Dallas on May 2.
A June 10 memo from Assistant City Manager Joey Zapata details a series of missteps that led to that fatal attack, including communications breakdowns between Dallas Animal Services (DAS) and the Dallas Police Department.
In an e-mail to FOX 4, a representative from BCG working on the study said, "the intent of this survey is to capture feedback from Dallas citizens regarding loose dog sightings and reporting, dog ownership habits, and views on animal welfare and services. This survey, along with many other data sources, will help us to understand the current situation and to develop a strategic recommendation for DAS that addresses both public safety and animal welfare."
The homepage of the survey also states the results will be shared with Dallas City Council and responses are confidential.
The survey asks respondents to report the frequency and nature of loose dog sightings in their neighborhood. It also addresses the city's 311 system and asks respondents to share information about their own pet ownership, including whether their animals are spayed or neutered.
The survey also asks Dallas residents their preferences on how the city should handle the loose dog problem, including their opinions on euthanasia policies once loose dogs are picked up.
The survey also touches on on animal cruelty in Dallas. In May, a FOX 4 Investigation uncovered that the system to investigate animal cruelty in Dallas is so broken, no one group is tracking all cases from start to finish. Out of nearly 4,000 animal cruelty calls to 311 and 911 last year, only 11 cases made it to prosecution.
Animal rescuer Stephanie Timko told FOX 4, she and other animal advocates in Dallas strongly believe loose dogs and animal cruelty are two intertwined issues that should be addressed concurrently.
The online survey is available in English and Spanish and respondents can leave an e-mail or phone number to be entered for prizes, including an iPad or gift cards.
Paper surveys are also being distributed through city council members and other community organizations to reach citizens who may not have internet access.
BCG also said, "Our goal is to allow all citizens to participate and be heard in this process."