Conservatives fire back after Boehner calls Cruz 'Lucifer'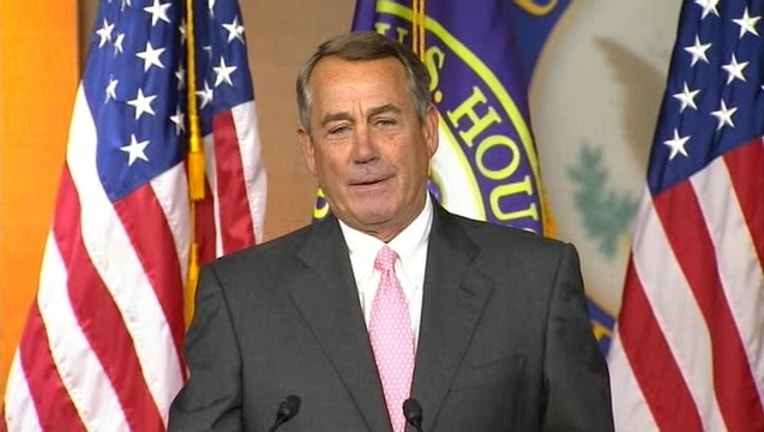 WASHINGTON (AP) — Former House Speaker John Boehner's rhetorical takedown of Sen. Ted Cruz, a presidential candidate and fellow Republican, has popped the cork off a bottle bubbling with bitter GOP recriminations.
Following Boehner's labeling of Cruz as "Lucifer in the flesh," one hard-right GOP senator labeled Boehner "part of the establishment," an insult in some Republican circles these days. A conservative House firebrand called Boehner a "sore loser," while Cruz himself tried to raise money off the incident.
Firing back, Rep. Charlie Dent, R-Pa., a moderate and old Boehner ally, said, "Somebody better contact Lucifer for comment, because he's probably very upset about" being compared to Cruz, the Texas senator.
The hostile fire shows how profoundly riven the GOP's pragmatic and ideologically conservative wings remain, even as the party battles over whether Cruz, billionaire front-runner Donald Trump or someone else should be crowned this summer with the party's presidential nomination.
It also demonstrates that hard feelings have not faded over last fall's ouster of Boehner from the top House job by hard-right conservatives.
Boehner, an Ohio Republican, spoke Wednesday at Stanford University, and his comments had the Capitol abuzz the following day. Things were still at a boil on Friday.
Rep. Steve King, R-Iowa, a longtime Boehner foe who voted against him for re-election as speaker last year, said in an interview that the comment "tells you how resentful and how spiteful John Boehner has always been, and he should have ridden off into the sunset."
"A guy like John Boehner is a sore loser, and that gavel was pried out of his hand," King said of Boehner's abrupt departure last fall.
Cruz emailed a fundraising appeal to supporters. Cruz repeated Boehner's insults and wrote, "Coming from the godfather of the Washington Cartel, that is a ringing endorsement!"
Cruz called Trump and Boehner "golfing and texting buddies" and said, "If you agree with me that Washington is a mess and the establishment wings of both parties are to blame — then I need your immediate help."
Boehner and his allies have not forgiven Cruz for helping rally House conservatives in 2013 behind a plan to threaten a government shutdown if President Barack Obama declined to roll back his treasured health care overhaul law. The resulting 16-day partial shutdown, which Boehner warned would go badly, soured public opinion against the GOP.
"A lot of us thought he behaved in an atrocious manner," Dent, the Boehner supporter, said of Cruz, who has also clashed with Senate Majority Leader Mitch McConnell, R-Ky. Referring to Boehner's characterization of Cruz as a "miserable son of a bitch," Dent said, "That's pretty harsh. I wouldn't have called him miserable."
On Thursday, Sen. Mike Lee, R-Utah, a Cruz friend, was seething on a conservative radio talk show.
"It's really vile stuff," Lee said on the Mark Levin show. He said Boehner "should be ashamed of himself" and demanded an apology.
Lee said Boehner and his supporters hate Cruz "because he is railing against the establishment, of which they are a part."
"Ted Cruz believes in the Constitution," Lee said. "They don't want to be stuck with that, because it makes it harder for them to do what they want to do, which is to build and concentrate more power in Washington, D.C., at the expense of everyone else."
The back-and-forth underscored a political truism that Dent was happy to describe.
"In politics friends come and go but enemies last a lifetime," Dent said. "You've got to think about that when you're going to step up and run."
___
Editors: AP reporters Erica Werner and Donna Cassata contributed to this report.