Confederate soldiers monument to be taken down in Fort Worth
FORT WORTH, Texas - A Confederate soldier monument in front of the Tarrant County Courthouse will be removed.
Tarrant County Commissioners voted 4-0, with one abstention, on Tuesday to take down the monument that was installed in 1953.
The monument will be moved into storage until officials can determine where it can be displayed again with historical context.
The United Daughters of the Confederacy paid for the monument's creation, and it was dedicated to Confederate soldiers from the Civil War and their descendants.
The vote came in the wake of continued protests from the death of George Floyd, who was killed by a Minneapolis police officer who kneeled on his neck.
"I'm asking that we take an action today of reconciliation and healing," said Tarrant County Commissioner Roy Brooks.
The courthouse has been the gathering spot for demonstrators since the killing of Floyd. Monday's group of protesters added its own message to what appeared to be a drop cloth used to cover it.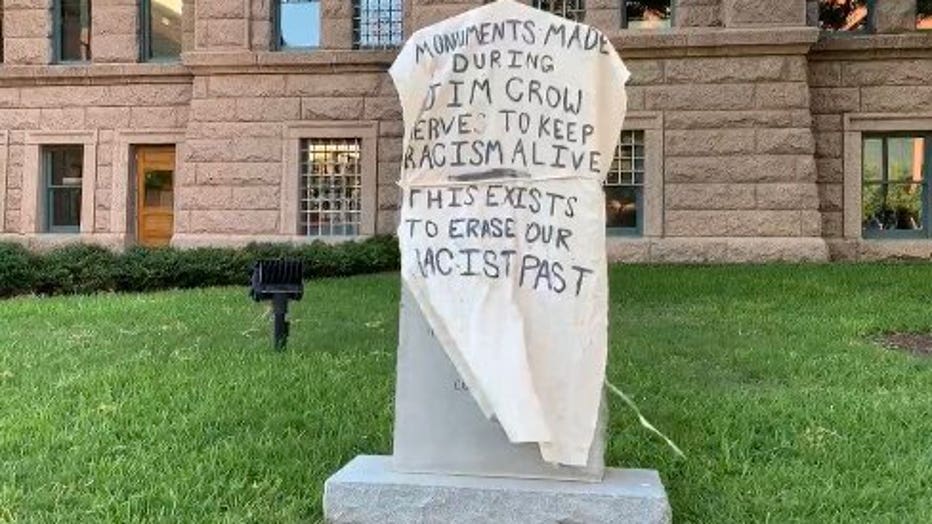 The passionate public comment was both for the monument's removal and the perspectives of those against removing it.
"The Confederate monument on our courthouse lawn must be removed in order for us to move forward in our community and take responsibility for our part in the continued healing of deep wounds of our nation," said Tarrant County resident Rev. Ron Price.
"There's no reason for Fort Worth or Tarrant County to have a regressive monument on the courthouse steps. It is inexcusable," said Tarrant County resident Amy Hunter. "Removing it is the least the Tarrant county could do to consider that black lives matter."
"Today, our most clear and imminent danger is not the historical monument but the crack houses in the many neighborhoods that are present," said resident Chaplain Stockholm. "This monument is to be seen not to be removed, remove them first."
The motion passed 4-0. One commissioner abstained. Judge Glenn Whitley explained why he voted in favor of it.
"My real feeling is regardless of how you believe, there was a significant segment of the population who believes it is a racist monument and that should not be allowed in public property," he said. "We'll move it. And we'll move it, I believe, fairly soon."
Also on Tuesday, Denton County Commissioners approved the removal of a Confederate memorial in the courthouse square. 
RELATED: More George Floyd death coverage