Unique new COVID-19 vaccination hub opens at Stonebriar Mall in Frisco
FRISCO, Texas - People in Collin County now have access to two more COVID-19 vaccination hubs. One of those sites touts a frustration-free plan that avoids long waitlists but so far that's not been the case.
The biggest counties in North Texas have COVID-19 vaccine wait lists with hundreds of thousands of names on them. That's why the city of Frisco decided to try a different tactic.
This week Frisco turned the old Sears store at the Stonebriar Mall into a large vaccination site. Unlike other sites, it does not use Collin County's waitlist.
Instead, it's a first-come, first-serve site that asks people to register daily.
"Every day, we are taking appointments for the following day, where you will get your confirmed time," said Frisco Mayor Jeff Cheyney.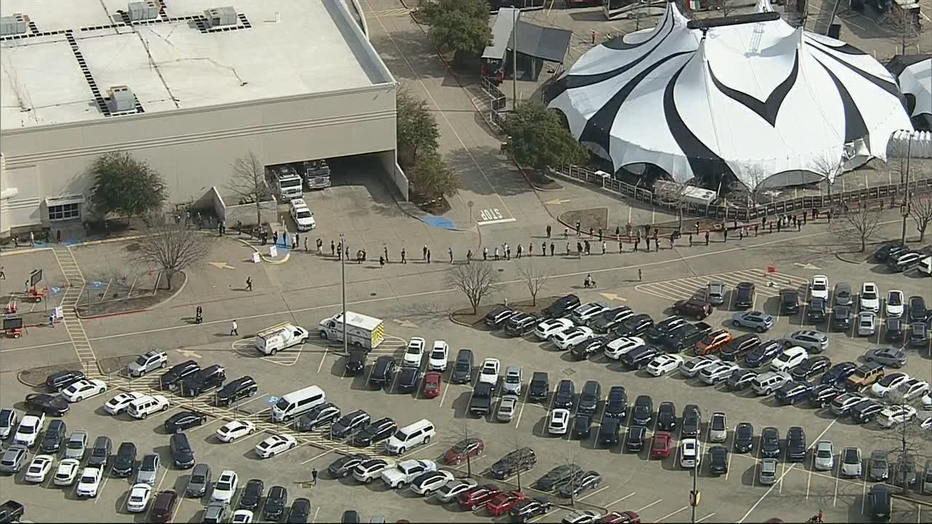 Just under 1,000 people got shots on Tuesday and the city said it was on track to give more than 2,700 shots Wednesday. It has about 4,000 doses left.
"The line is moving really good. We stopped several people and asked them their experience. They said it was wonderful. They're very happy," said Mark Piland, Frisco's fire chief.
"I, like many people, have started to get COVID fatigue if you will. And seeing all these people here and being able to look out and say, 'Hey, normalcy is closer than ever,'" said John Seidl, who got the vaccine Wednesday.
But not everyone is happy with the unique registration process.
Several people replied to the city's Twitter page saying they ran into errors that would not allow them to register Wednesday in the late evening hours.
"I made it all the way through to picking my time and then it returned with an error. So it was very frustrating," said Robert Sulamin. "I tried in the evening and later it said it would be open at 10 p.m. And I tried at 9:30 p.m. just on a whim and I got in."
"When I went online when it was open, it kept saying because there was so much activity you cannot get in line. So I didn't. I was up until 1 a.m. and I couldn't do it," said Boshra Safavr. "I was almost about to give up and I was one of the lucky ones that got in."
This week, the state provided Collin County with nearly 43,000 doses to be split between six locations, including another new site that opened at the Sam Johnson Recreation Center in Plano.
The county had only received 44,000 in the first seven weeks of the rollout.
Collin County Judge Chris Hill said he doesn't expect to receive such a large shipment next week but hopes to continue to tackle the large waitlist.
The vaccine site in McKinney has been open for two weeks. Mayor George Fuller there have been no major issues.
"The need is huge. We've had hundreds of thousands sign up on the county sheet," he said. "We also have many out there who don't have access to computers. We are identifying those people and most of those fall under the very vulnerable population."
Collin County said none of its sites are seeing people with unauthorized appointments, which have slowed down the process in Dallas County.