Clinic held to help vaccinate educators in Duncanville
DUNCANVILLE, Texas - Hundreds of teachers and school staff in Duncanville ISD got their COVID-19 shots Friday.
The Dallas Methodist Health System hosted a vaccination clinic for the school district. It's the first of several pop-up clinics Methodist is putting on for educators in North Texas.
"By having our staff and community vaccinated, we're able to ensure a safe learning environment for our students and that's our primary goal. We want to ensure all of our students are able to learn in a safe and healthy environment," said Karin Holacka with Duncanville ISD.
Methodist was able to vaccinate more than a 1,000 people on Friday. The district opened up the clinic to not only their employees but spouses and the community as well.
"I was really excited because I needed to get my shot done," said Julie Castillo, office clerk, Smith Elementary.
The event came just weeks after the state health department added teachers and school staff to the priority list.
"It was so accessible, it was free. Part of the issue was finding the time during the work day so this made it really convenient," said Bret Duff, head softball coach, Duncanville H.S.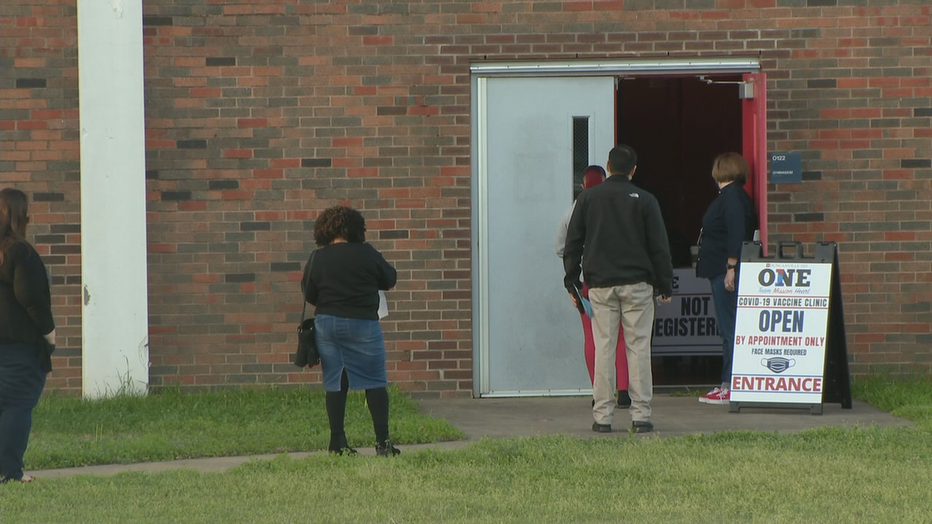 Some were hesitant about the shot at first but ultimately decided the benefits outweighed any fears.
"I'm looking forward to returning and actually seeing people, I'm an educator at heart and so being able to interact and be amongst people," Jamie Brown, Instructional Technology Coordinator, Duncanville ISD.
Teachers and staff will still continue to wear masks and use other safety measures like hand sanitizing and social distancing. But they say it's a relief now having an extra layer of protection.
"I definitely don't want to give it to somebody else. Being a coach, at work or school to give it to any players, because that could go to their families," Duff said.
Friday's clinic is the first of several planned through Methodist Health Systems to make the vaccine more accessible to school districts in targeted areas.
"We want to get to the southern sector especially, that's where our mission and our heart is. We know there are a lot of people there that have a challenge going elsewhere getting the vaccine so we've decided we're going to go to them," said Pam Stoyanoff, President/COO, Methodist Health System.
Other districts like Dallas ISD have partnered with Parkland Hospital and Fort Worth ISD with Texas Health Resources. The goal -- to get everyday life back as soon as possible.
"We took our first COVID patient just a little over a year ago. At the max, probably two-thirds of the patients in our hospitals had COVID. It was intense," Stoyanoff said. "This is our ray of hope, getting people vaccinated."
Methodist will begin vaccinating educators in Mansfield and Cedar Hill next week.
The hospital workers will return to Duncanville High School to give second doses in a few weeks.