Carry the Load helps people honor fallen service members for Memorial Day
DALLAS - Hundreds went out to Reverchon Park for the annual Carry the Load Dallas Memorial March for a mission to restore the true meaning of Memorial Day.
Carry the Load is a relay covering 20,000 miles in 48 states.
It's a national event that runs the month of May, and ends on Memorial Day weekend in Dallas for the Dallas Memorial March.
People started marching just after 4:30 p.m. Sunday.
Some will march through the night around the Katy Trail for a total of 20 hours and 23 minutes. 
It's all to remember and honor the men and women who paid the ultimate sacrifice.  
Hundreds went out to Reverchon Park Sunday for the annual Carry the Load Dallas Memorial March. 
All of them ready to answer one question: who are you carrying?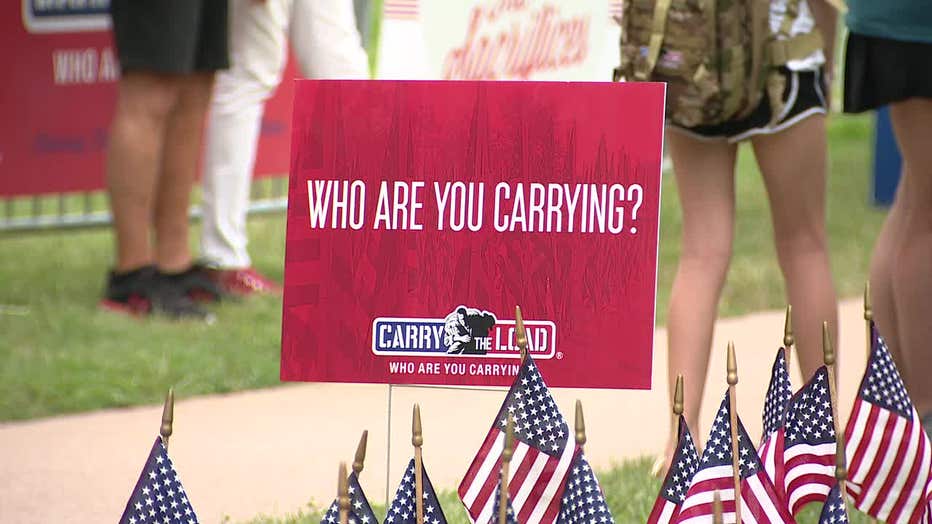 "My name is Chris Board I carry the load for my son, Cody," Chris Board said.
The answers were found on the backs of marchers. 
Some were carrying friends, while others, like Board, were carrying family.
"They say a person will die two deaths. The first death is their physical death and the second is when their name is no longer spoken. So for me, it's a personal mission to share his story," Chris explained.
Cody Board was killed in action in Afghanistan, on October 4, 2010.
His father doesn't carry out this mission alone. 
Chris' two youngest sons, who also served in the military, are beside him every step of the way. 
"It's always a huge mix of emotions, it's pride, it's sadness, it's all of it," one of Chris' sons said. 
A load their family says is an honor to carry. 
"It's really humbling and it's up to each individual person on how they want to carry that load for whoever they're honoring," Chris added.
Former combat Marine Jacob Schick does this through his mental and emotional wellness organization, One Tribe Foundation.
"Freedom isn't free, so all these people coming together to honor the men and women that are no longer with us and are greater than I'll ever be, it means everything to me," he said.
And when asked who he was carrying, Schick didn't hesitate. 
"My answer is always the same, it's all of them," he said.
Carry the Load has a national relay where teams of marchers travel 20,000 miles on five different routes covering 48 states. The relay ends with the Dallas Memorial March.
Restoring the meaning of Memorial Day at every turn
"Go have a picnic, go out to the lake and enjoy it, but don't forget it's Memorial Day and we need to honor those who fought and made the ultimate sacrifice for the freedoms that we enjoy," one participant said.
Closing ceremonies will take place Monday morning at 11:30 a.m. at Reverchon Park.