Back to School: COVID-19 questions and answers for the 2021-2022 school year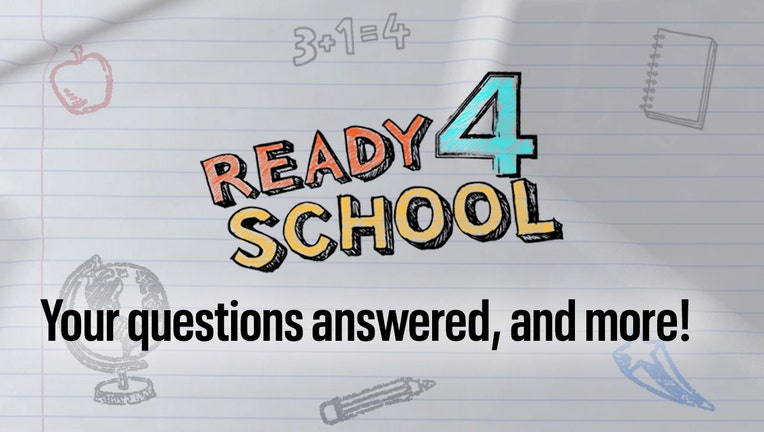 DALLAS - Another school years begins for tens of thousands of North Texas students but this time they'll be learning in-person with less stringent COVID-19 protocols.
Will my child have to wear a mask to school?
Texas Gov. Greg Abbott issued an executive order in May that prohibits public schools from requiring students to wear a mask. Despite that order, Dallas, Mesquite, Richardson and DeSoto ISDs will still require everyone on campus to wear a mask. Other districts in the county have will follow the state order following the Texas Supreme Court's ruling on mask mandates.
Most other districts are strongly encouraging masking wearing. The CDC recommends that masks be worn indoors by all children who are not fully vaccinated. 
"The advice would be that anybody who is unvaccinated should still wear a mask in indoor settings including schools. And it may be easier to encourage everybody to wear a mask since we don't really have any way of telling if who is vaccinated and who is not," said Dr. Seth Kaplan, the president of the Texas Pediatric Society.
Will schools require students to be vaccinated?
While the Texas Department of State Health Services does have the authority to set immunization requirements for schools, Gov. Abbott banned state agencies and organizations that receive state funds from requiring proof of the COVID-19 vaccine.
Still, Dr. Kaplan said anyone who is eligible to get vaccinated should.
"We do have a safe and effective vaccine so your best bet is to get vaccinated if you can. And we are also hopeful that vaccines for children between the ages of 5-12 will become available as early as September," he said.
Both Pfizer and Moderna are in the process of testing their vaccines on school-aged children and are expected to apply for FDA approval by September.
What are the current COVID-19 safety protocols for my school district?
Allen ISD 
https://docs.google.com/document/u/1/d/e/2PACX-1vSKQXhDZnp0zLjajCSFx5ymapGSRvhP9nbOMby5lDRjqsa-aoNSLG6F0z_TxlshcuUUghYSUVI8Ts5z/pub
All students in Allen ISD will return to in-person learning on Aug. 11. The district hopes to find a balance between health, safety and learning to help students achieve success for the year. Masks are optional in accordance with Gov. Abbott's executive order but social distancing will be maintained when possible. Allen ISD will not require those who have been exposed to COVID-19 to quarantine and positive cases will no longer be tracked districtwide. However, schools will still notify parents if there is a positive case on campus.
Arlington ISD
https://www.aisd.net/esser/
Arlington ISD's first day of school is Aug. 16. The district is still planning to notify parents of positive cases on campus and will maintain the current cleaning protocols. However, there is no virtual option for students and masks are not required on campus. Parents are encouraged to keep sick children at home and to contact the school for guidance on quarantining.
Carrollton-Farmers Branch ISD
https://www.cfbisd.edu/departments/health-services/covid-19-information
CFBISD will welcome all students back to campuses on Aug. 10. Plexiglas dividers have been removed but daily cleaning and the use of hand sanitizer will continue. Some field trips will resume.
Dallas ISD
https://www.dallasisd.org/ready
The largest school district in North Texas has three different school calendars. Five of its campuses start on Aug. 2. Those campuses have a redesigned calendar that includes extra classroom time to help deal with learning loss due to the pandemic. Dozens more campuses will open on Aug. 9 but a majority of Dallas ISDs students will start on Aug. 16. The district announced everyone, vaccinated or not, must wear a mask inside buildings despite the governor's orders. It's also working on a virtual learning option and offering COVID-19 rapid testing to students and staff.
Denton ISD
https://www.dentonisd.org/Page/101909
Denton ISD is one of only a few districts still planning to offer virtual learning options to K-8 students, despite not receiving state funding. Nearly 250 students have enrolled in Denton ISD's K-8 Virtual Academy and at least 100 more are on a waiting list. All other students will return to campuses on Aug. 12. Masks are highly recommended in all district facilities.
Duncanville ISD
https://www.duncanvilleisd.org/reopening
Duncanville ISD in southern Dallas County is also starting school on Aug. 2. Duncanville's superintendent said teachers will focus on identifying COVID-19 learning slides and getting students caught up. The district said thousands of its employees are fully vaccinated against COVID-19. Anyone 12 and older is eligible for a free COVID-19 vaccine.
Fort Worth ISD
https://www.fwisd.org/covid-19
Learning will be 100% in-person in Fort Worth beginning on Aug. 16. Virtual learning is not an option so Fort Worth ISD said it will implement a robust health safety plan. The district will also focused on the social and emotional needs of students. Fort Worth ISD's superintendent tried to issue a mask mandate but that order was overturned in court.
Frisco ISD
https://www.friscoisd.org/departments/covid-19/coronavirus
Students in Frisco will return to school on campus on Aug. 12. The district made a last-minute decision to offer a virtual option even though the state legislature did not approve funding for it because of the rising COVID-19 cases in our area. Frisco ISD also said it will do its best to accommodate parents' requests for social distancing and at the same time will work to ensure no one is treated differently because of their choice to wear or not wear a mask. Students and staff with a confirmed case of COVID-19 will be asked to quarantine for 10 days but those who are exposed to the virus no longer need to quarantine.
Garland ISD
https://www.garlandisd.net/node/15088
Garland ISD is also offering rapid testing to symptomatic students as part of its COVID-19 protocols when it welcomes back all of its students for in-person learning on Aug. 2. The district will continue to keep track of COVID-19 cases and post them online. Fully vaccinated students and staff will not have to quarantine if they are exposed to COVID-19. Plexiglas dividers have been removed from classrooms and the cafeteria but are available if parents request them. Like many other districts, Garland ISD will not have an option for virtual learning this school year. 
Grand Prairie ISD
https://www.gpisd.org/SafetyPlan 
Grand Prairie ISD students will return to only in-person learning on Aug. 11. Other activities like choir concerts, athletic events, art shows and awards ceremonies will also begin to return this school year. The district will encourage frequent hand washing and social distancing when possible.
Irving ISD
https://www.irvingisd.net/Page/2495
School starts on Aug. 16 in Irving and all students will return to the classroom.  Irving ISD said there will be COVID-19 protocols in place but those safety protocols are not listed on the district's website. Parents are asked to email Director of Clinic Health Services Karyn Beauchamp at kbeauchamp@irvingisd.net if they have questions or to report lab-confirmed cases.
Lewisville ISD
https://www.lisd.net/backtoschool
The first day of school for Lewisville ISD students is Aug. 11 and all will return to in-person learning.  The district said this year will be more like a traditional school year with most school operations returning to normal. Masks are optional. Desk shields will only be available upon request. Increased cleaning and contact tracing will continue but students who are exposed to COVID-19 will not be required to quarantine. The district is asking parents to hold off on having lunch with their elementary and middle schoolers until vaccines are available for children younger than 12.
McKinney ISD
https://www.mckinneyisd.net/health-services-wellness/coronavirus-covid-19/
Aug. 12 is the first day of school for students in McKinney. Everyone, including those who are fully vaccinated, will be encouraged but not required to wear a mask inside the classroom because of the highly contagious delta variant. The schools will work to make sure no student is treated differently because they choose to wear or not wear a mask. Social distancing and hand washing will continue but the district will no longer maintain a COVID-19 dashboard. Those exposed to COVID-19 will not be required to quarantine.
Mesquite ISD
https://www.mesquiteisd.org/covid-19
All students return to class in-person on Aug. 11. Mesquite ISD reissued its mask mandate following a new ruling out of Travis County that suspends Gov. Abbott's executive order banning mask mandates. The district is also encouraging everyone to get a COVID-19 vaccine, continue practicing social distancing and stay home when feeling ill. The district will continue to notify parents about positive COVID-19 cases and quarantines will be handled by school nurses on a case-by-case basis. Things like field trips, special guests and extracurricular activities will be returning this year. 
Plano ISD
https://www.pisd.edu/covid-19updates
Plano ISD will offer a parent-left virtual option for students in kindergarten through 6th grade. It is also re-evaluating its COVID-19 safety protocols for 2021-2022. The proposed plan calls for continued hand washing and campus cleaning but there will be no restrictions on campus visitors this year. Face masks will be recommended universally indoors but not required to comply with Gov. Abbott's executive order. Parents will still be notified if there is a positive COVID-19 case on campus. All in-person classes begin on Aug. 11 in Plano.
Richardson ISD
https://web.risd.org/cv19/ 
Richardson ISD will offer a virtual option for the 2021-2022 school year, which begins on Aug. 17. The district will keep a mask mandate in place. It will also look to the CDC and local health authorities for guidance on how to keep students safe. The district is hosting vaccine events and encouraging everyone who is eligible to be vaccinated to the rising COVID-19 cases and hospitalizations. 
How do I submit my #Ready4School photos to be shown on FOX 4?
We want to see your back to school photos. Share them with FOX 4 on Facebook or Twitter using the hashtag #Ready4School. We'll put some of our favorites on TV.