Arlington officer kills armed man at strip mall
ARLINGTON, Texas - Arlington police say an officer shot and killed an armed felony suspect who pointed a gun at officers Thursday afternoon.
Police say they were trying to arrest the fugitive on felony warrants at a strip mall on Pioneer Parkway.
The suspect's vehicle is still outside of the T-Mobile store across the street. The suspect is dead after pointing his handgun at an Arlington police officer working as a U.S. marshal.
They'd been tracking the man wanted for 11 felonies out of Arkansas, including sexual assault and indecency with a child.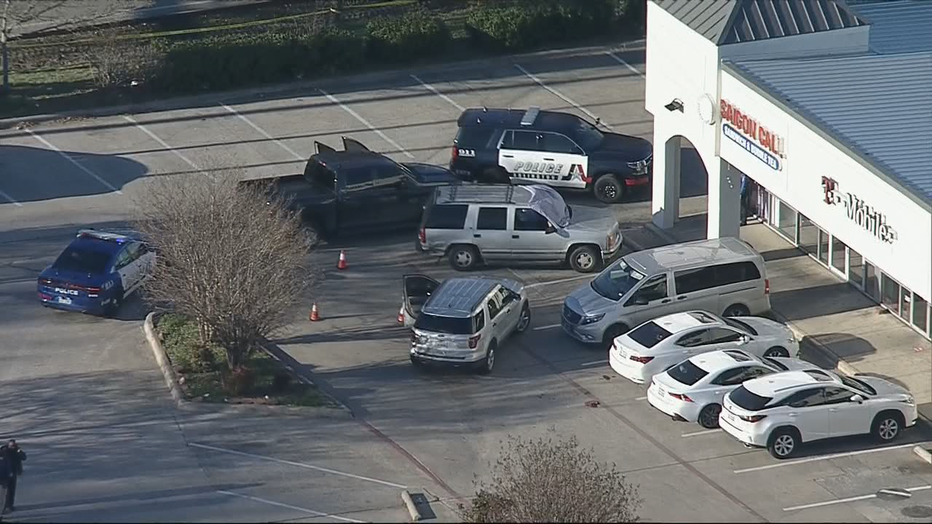 It all started at 5:22 p.m. when a total of three officers on the fugitive task force made a traffic stop on the corner of Pioneer Parkway and Browning Drive.
The driver of the SUV pulled into the strip mall and parked just outside of the strip mall with about a dozen businesses.
According to Arlington Police Sgt. Michael Chitty, the suspect was alone in the vehicle and when officers approached him. He pulled out a handgun and pointed it in their direction.
One of the officers fired at the man, and he was pronounced dead on the scene.
"These are task force officers. So they are purposefully looking for persons that have these warrants. They have intelligence on them," Sgt. Chitty said. "I don't have the background information on how they knew where this suspect was or anything to that degree, but they do not make random traffic stops on civilians for running stop signs."
Police have not said whether or not the suspect fired his weapon. No officers or bystanders were injured during the shooting.
The officer who fired his weapon has been with the Arlington Police Department for 20 years.