Former Arlington officer indicted on murder charge for Oct. 2021 deadly shooting
ARLINGTON, Texas - A Tarrant County Grand Jury indicted a former Arlington police officer on a murder charge for an officer-involved shooting back in October 2021.
Robert Phillips was fired two days after the deadly shooting of Jesse Fischer.
RELATED: Arlington PD fires officer after deadly police shooting involving DWI suspect
It happened after a low-speed chase ended at a cul-de-sac after the 40-year-old suspect was evading a DWI traffic stop.
Dash and body camera video showed Fischer slumped over behind the wheel in an intersection on Oct. 20 last year.
Phillips tried to stop him, but he drove off. A slow speed chase ensued, once stopping at a red light.
It continued into a neighborhood cul-de-sac. Fischer turned his Jeep around, and Phillips got out and fired.
Two days after the shooting, Arlington Police Chief Al Jones fired the veteran officer of seven years.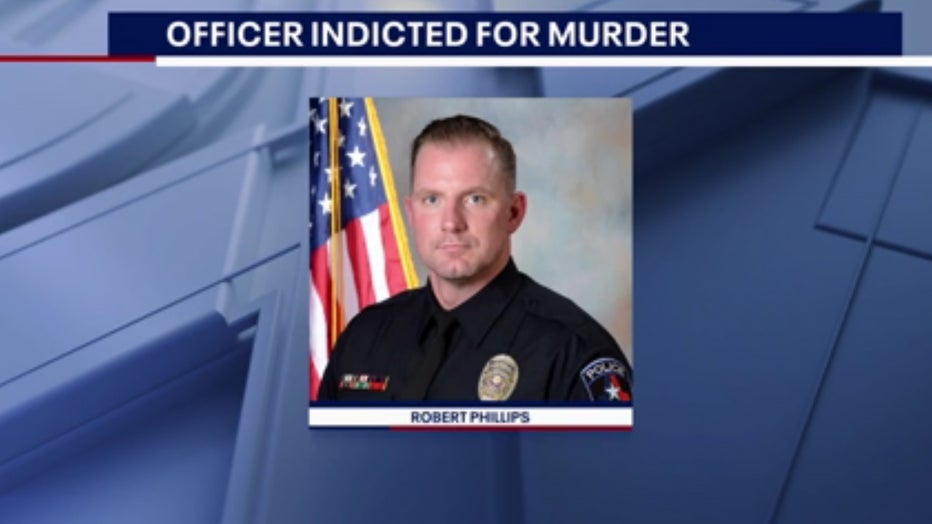 This is what chief jones said last year 
"He could've backed up behind the vehicle and allowed the vehicle to go by. He could've stayed in his vehicle so he didn't have to use deadly force," Jones said in a 2021 press conference.
RELATED: Arlington police fatally shoot suspected drunken driver who allegedly drove toward officer
Jones said Phillips failed to follow Arlington's use of force policy, and he released the body camera footage as an act of transparency. He was lauded by some city leaders.
The police unions weren't happy. They say he acted too fast.
In December, the heads of the Arlington Municipal Patrolman's Association and the Arlington Police Association spoke to council, saying half the police force had lost confidence in the chief.
"It's not my place to decide whether the shooting was good or bad. That's not what we are here for," said Arlington Municipal Patrolmen Association President Chris Ceballos. "We are here for the fact that the chief didn't follow due process."
In response to the Tarrant County grand jury's indictment, neither union would comment. Neither would the Arlington Police Department, which only said it was notified about the indictment.
FOX 4 reached out to the Tarrant County district attorney for additional information about the indictment. We're still waiting on that.
FOX 4 also reached out to the family of Fischer and have not heard back from them.
If found guilty, Phillips would face 5 to 99 years behind bars or life in prison.