Arlington ISD meal programs being impacted by supply chain issues
ARLINGTON, Texas - Supply chain problems are hitting one of the most important services provided by public schools.
School districts nationwide and in North Texas are making adjustments to their breakfast and lunch programs.
Arlington ISD is the latest to notify parents of the challenges and changes to expect with meal programs.
The school district makes 50,000 student meals a day. They say while they're not in danger of not being able to feed kids, they're facing challenges with nearly every item they serve. 
It's been the most challenging year yet for Arlington ISD's Food & Nutrition Services Team.
"I can't think of an item that either hasn't been shorted, that hasn't been canceled, that we haven't had a substitution for," explained David Lewis, Director of Food & Nutrition Services for Arlington ISD. "We just put out a list of 30 items we're no longer able to get right now."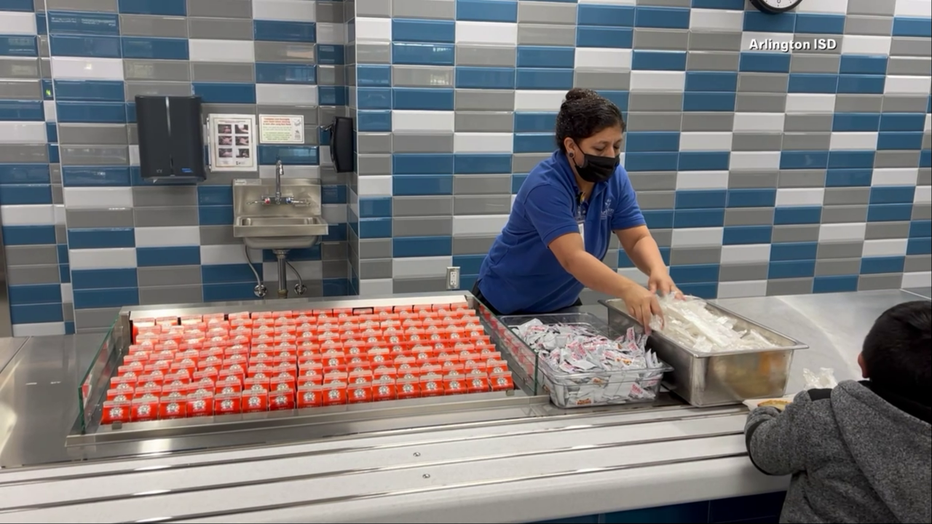 MORE: North Texas businesses affected by supply, labor shortages
Both food items and non-food items like cutlery are in severely short supply, and food costs are rising. 
"There's not a day that goes by that we don't receive letters from vendors and manufacturers having to increase their prices," Lewis said.
With many last-minute substitutions, the food services team has been forced to get creative and is also unable to plan meals more than a week in advance. 
"There's challenges literally in every aspect. From your biscuits in the morning to your pizzas in the afternoon," Lewis said. "From your utensils, your trays. All plastics are hard to come by right now."
For example, of the district's 450 cases of sliced beef ordered, only 11 have been delivered. And out of over 8,000 packs of trays, not one has come in. 
The issues translate into menu changes and fewer entree choices. 
And in addition to supply issues, the district is also facing challenges finding food service employees. Currently, they have more than 160 open positions. The district recently raised pay for food service workers to help. 
"If there's anybody listening who has a passion for feeding kids who's called to bless their community by feeding kids, we want to talk with you," Lewis said.
These issues mirror what other districts across the country are seeing. 
Earlier this school year, Dallas ISD announced it would be making adjustments like switching to finger foods and serving meals in to-go bags due to shortages in utensils, paper goods and other items. 
But districts like Arlington ISD say despite the challenges, they will still be able to meet their needs.
"At no point do we foresee any students not being able to have a meal provided by the district," Lewis said.
Arlington iSD says they anticipate these issues could last into the next school year.