Seagoville PD: Two teens at center of Amber Alert found safe in Plano
SEAGOVILLE, Texas - Police say two teenage girls from East Texas who were the subjects of an Amber Alert after vanishing in Dallas County have been found safe in Plano.
Devany Betancourt and Marina Nelson are from Bullard, which is south of Tyler in Smith County. They reportedly went to Seagoville with a music teacher on Sunday to sing at La Pulga Flea Market before going missing.
The music teacher, who is not involved in this case, got separated from the girls around 2 p.m. Sunday afternoon and called police later that evening.
The teacher, who is described as a family friend, was not able to reconnect with them after the performance.
It is not clear if the girls were in contact with anyone else besides the music teacher after they arrived in Seagoville Sunday morning. But one of the girl's cell phones pinged in Collin County Sunday night.
Seagoville Police Chief Ray Calverley told FOX 4 that the two girls were found safe Monday afternoon at a hotel in Plano.
The chief says a man they believe dropped off the two teens at the hotel is being questioned by investigators. However, police will not confirm this man's role in the disappearance of the girls. But we know they are safe and unharmed.
Around 6 a.m. Monday, an Amber Alert went out and multiple agencies became involved, including the FBI and Dallas police.
By Monday evening, police say someone at the Plano hotel recognized the two girls and called 911. The girls were located unharmed and taken to a hospital to be checked out as protocol.
Police located the man who dropped the teens off at the hotel and took him to the police department.
Police say the person being questioned isn't from the Dallas area, but they would not say if he's being considered a person of interest.
"At this point, I just don't want to speculate because I don't know what his involvement was," Calverley said. "I am very relieved because this doesn't always happen like this. With the collaboration of the agencies and all the resources they were able to provide, this was an outstanding outcome to this."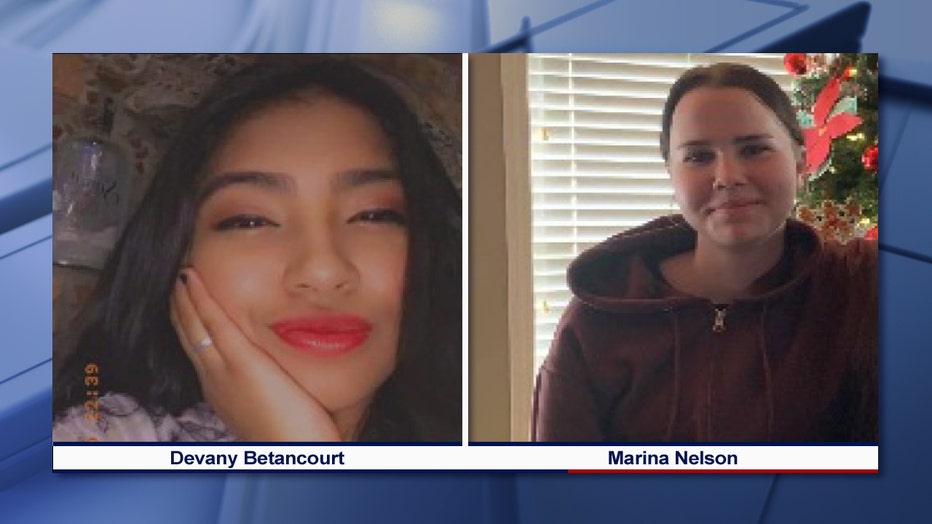 Police also aren't confirming if the two girls knew the person detectives are now questioning. It's also unclear how the two teens left the flea market, whether willingly or not. It's unclear what happened while they were missing.
Devany's mother told FOX 4 that this behavior was strange and that her daughter would never run away, but still we do not know what happened or why.
The owner of the flea market tells FOX 4 two off-duty Seagoville police officers were working security at the flea market Sunday and were not informed about the missing teens. The owner says some 15,000 people go to the flea market on the weekends to hear live music and shop. He says there are no security cameras.