Missing 2-year-old Celina boy found safe after being abducted by his father
CELINA, Texas - A 2-year-old Celina boy was found safe after police say he was abducted by his father Tuesday night.
An Amber Alert was issued for Levy Pugh, and 15 hours after he was taken, the toddler was located in McKinney.
Police said 42-year-old Isaac Pugh abducted Levy from a Celina home on Hillside Drive, where the toddler lives with his mother and two older brothers.
Isaac reportedly forced his way into his ex-wife's home, assaulted her and took their son.
"I know you are mad at me, but please don't take it out on my son. He's a great kid, I would just like to see him again. I'm ready," Levy's mother, Misti Pugh, said Wednesday morning.
She made an emotional plea for the father of her 2-year-old son to return him unharmed.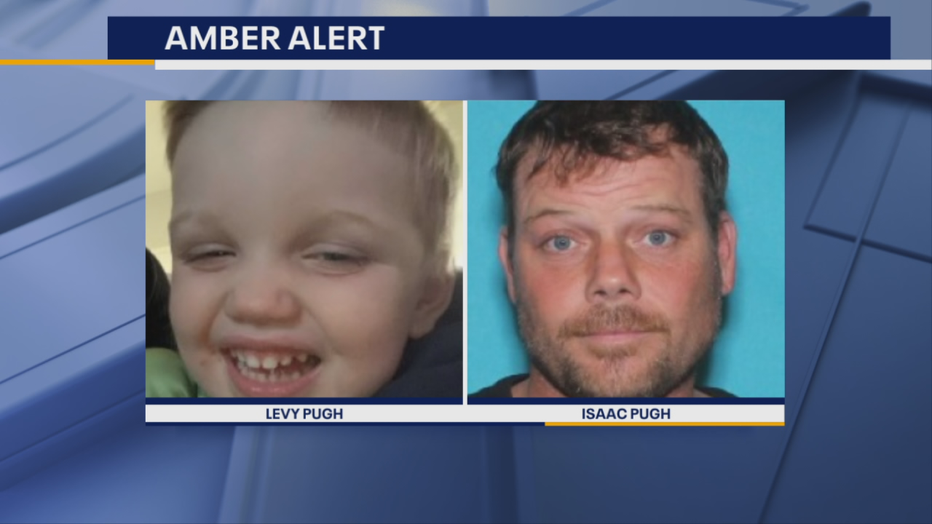 Collin County court records show Misti had recently filed for a restraining order. A judge denied an emergency order, which is issued if there's a clear and present danger, but a hearing was set for next week for a final protective order.
"Last night, he broke into my house, shattered my door, and shoved me across the room in order to get to my son," Misti said. "Once he had my son in his arms, he ran out of the house and jumped in his car and took off."
Police released a picture of Isaac's white Toyota Tacoma, along with his license plate, and an Amber Alert was issued, with highway signs alerting motorists.
There was added concern, and federal authorities were brought in to help because police said Isaac was believed to be under the influence, possibly armed, and may have been heading to Mexico, though he has no connections there. 
The child was taken while wearing only a diaper. 
"Levy's dad, Isaac Pugh, tested positive for meth last week, and since that, I have denied contact since I was worried for my son's safety," Misti said.
Police said Levy and Isaac were found at 12:45 p.m. Wednesday. Levy was returned to his mother unharmed, and Isaac was taken into custody. 
Police did not specify exactly where they were located, and it's unclear if they were in McKinney the entire time. 
Isaac has a criminal history that includes a pending misdemeanor for resisting arrest, disorderly conduct, a domestic violence charge in 2004, as well as assault/battery from the same year.