'Allen Str8ng' t-shirt fundraiser tops $10,000 in donations
ALLEN, Texas - A t-shirt fundraiser to help the Allen Premium Outlets shooting victims has already raised more than $10,000.
Home Team Prints in McKinney began selling "Allen Str8ng" t-shirts shortly after the mass shooting which left eight people dead and seven more injured.
Co-owner Kevin Easley said he and other workers wanted to produce the shirts as a public show of support for those still healing from their wounds and those still dealing with the trauma of gun violence.
Easley told FOX 4 he considers Allen his hometown. And he was still trying to wrap his mind around the idea of a mass shooting in his hometown.
RELATED: McKinney business produces 'Allen Str8ng' t-shirts for community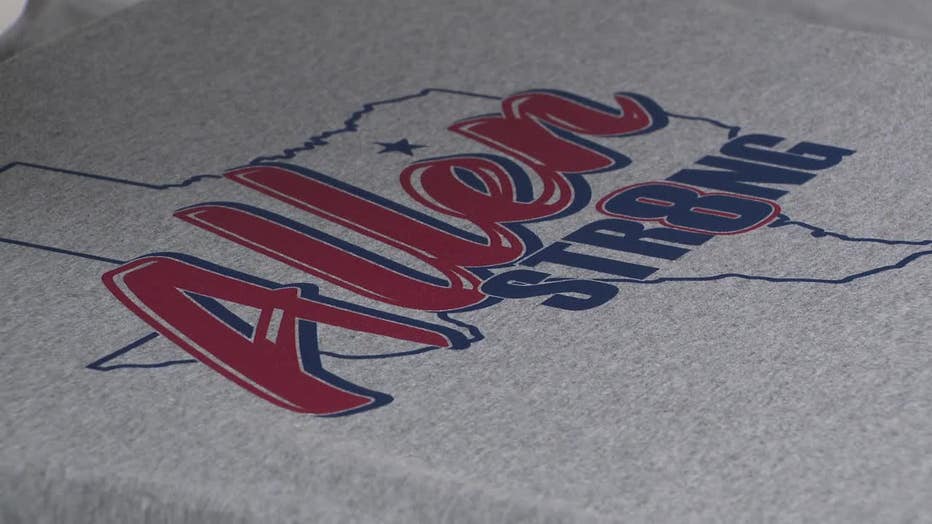 "You talk about 'not in my town, not in my town, not in my town.' We can't say that anymore," he said.
Since the story aired, Home Team Prints has raised more than $10,000 to donate to the Communities Foundation of Texas for the Allen shooting victims and their families. 
And that's just the first donation. The company still gets an average of about 24 to 40 t-shirt orders daily.
Easley said there's no end to the fundraiser. He will keep printing the $15 shirts and donating 100% of the sales as long as people are ordering.
To place an order, visit https://hometeamprints.net/store#!/Allen-Strong/p/553055240/category=0 .