McKinney business produces 'Allen Str8ng' t-shirts for community
MCKINNEY, Texas - A Collin County business is doing what it can to support the victims and families of the Allen shooting.
Workers decided to produce t-shirts as a public show of support for those still healing from their wounds and those still dealing with the trauma of gun violence.
In one week, Home Team Prints has sold close to 300 of the 'Allen Str8ng' t-shirts.
No matter who you root for in North Texas, you'll find it at Home Team Prints.
Kevin Easley is the co-owner of Home Team Prints in McKinney. For him, Allen is his home team. He's still trying to wrap his mind around the mass shooting at the Allen Premium Outlets mall. 
"You talk about 'not in my town, not in my town, not in my town.' We can't say that anymore," he said.
Easley helped in the best way he knew how. He printed a t-shirt to honor the eight people who lost their lives.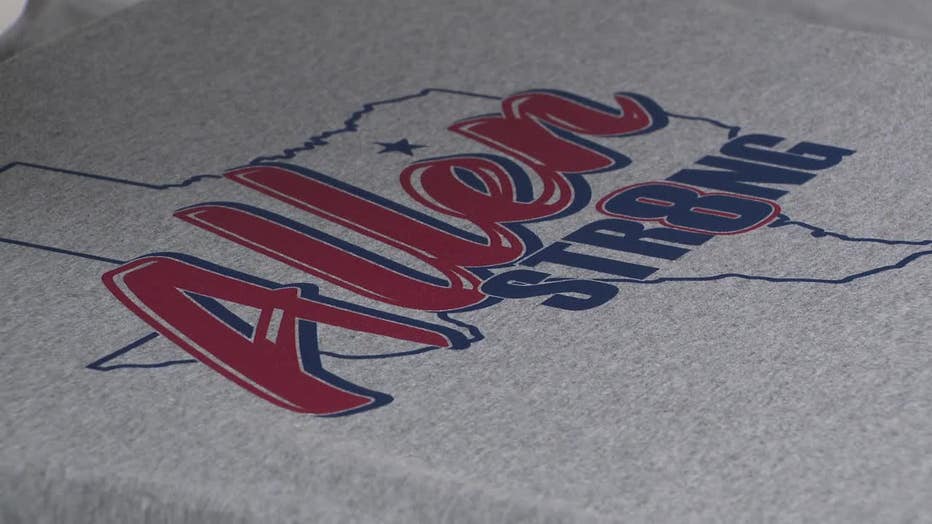 "We definitely wanted the 'Allen Strong' in there to have a sense of community. But we wanted to make sure we had the '8' on there," he said.
Angela Fortney has lived in Allen for 20 years.
"I love the fact that they put 8 on there, she said. "When I saw that it, it literally made me so emotional." 
In the days since the mass shooting, Fortney says she's seen love and support. 
"Lots of people coming together," she said. 'Lots of posts about how can I help, how we can be there, how can we serve the community." 
The t-shirts are one way she says people can show support.
"It's more tangible than, 'I'm here for you' or 'I'm praying for you.' It's you're showing it," she said.
But it's more than just a T-shirt. To Fortney, it's a way to make sure no one forgets. 
"Continuing to honor, continuing to remember those lives, continuing to remember the bravery and the importance of community," she said.
Because for Fortney, Allen Strong is a community that always roots for the 'home team.' 
"The heartbeat of everything that we do. You want to make your community proud, and you want your community to make you proud," Easley said. "So you do those things together with your neighbors, with your family, and you do them for the city of Allen." 
The shirts are $15 each. All the money goes to the Communities Foundation of Texas to help those impacted by the mass shooting. 
Easley says there's no end to the fundraiser. As long as there is an order, he will keep printing and donating. 
ORDER LINK: https://hometeamprints.net/store#!/Allen-Strong/p/553055240/category=0