Allen Outlets shooting suspect may have been driven by white supremacist ideals, sources say
ALLEN, Texas - New information paints a disturbing picture about the man responsible for the deadly Allen Outlet mall shooting Saturday.
Apparently, 33-year-old Mauricio Garcia was not shy about his racist beliefs online.
Social media posts suggest he planned the attack at Allen Premium Outlets weeks in advance and researched when the shopping center would be busiest, according to the Associated Press.
CONTINUED COVERAGE: Allen, Texas Mall Shooting
On Saturday, investigators said Garcia killed eight people and injured seven others at Allen Premium Outlets with an AR-15-style weapon.
The FBI said it recovered multiple weapons on him and from his silver sedan.
On Saturday, SKY 4 captured images outside Allen Premium Outlets of law enforcement officials searching the suspect's silver vehicle and removing what appeared to be rifle cases.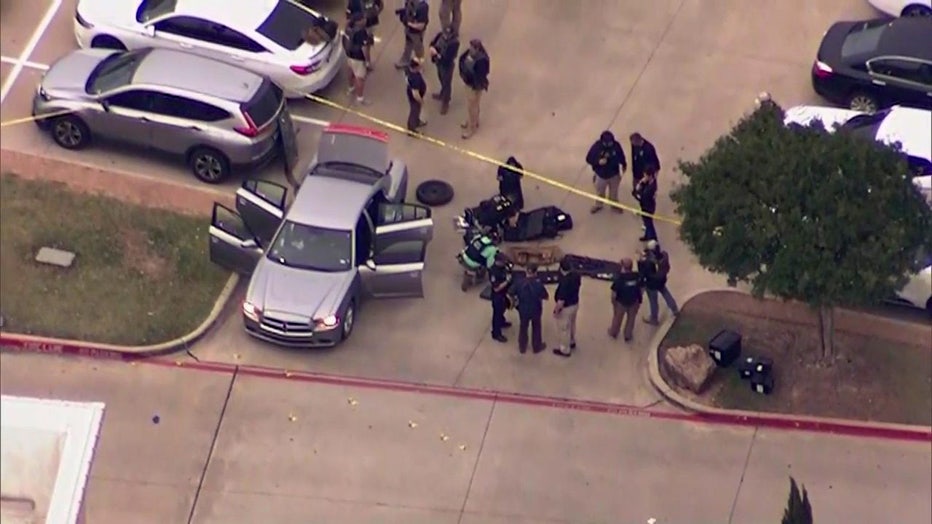 According to the Dallas Independent School District, Garcia grew up in North Texas and graduated from Bryan Adams High School in 2008.
Neighbors said FBI agents and Dallas police raided Garcia's parents' home in Dallas Saturday evening.
"They walked out with several boxes. 5 to 6 boxes is all I know," said Moises Carreon, who lives nearby. "It still sends a chill down your spine knowing that the person who would commit a horrific crime like this lives five houses away." 
Security consultant Craig Miller explained the teams are looking through his background.
"They're looking at what took place in this individual's life. They are looking at his phones, they are looking at his social media, who he has spoken with in the last 24 to 48 hours. Who he had been in contact with. Were there other people who possibly might have known what had taken place?" said Miller. "If he had created any type of manifesto, what sort of information was he watching, had he put out on social media where had his phone been? Tracking his phone the location of that phone, had it been to that address previously? Is this something that he planned? There are a lot of things, I think we all want to know the motive in this case. That's really important to everyone, why did he do that?"
Records show Garcai worked as a security guard after a failed attempt to join the military.
Most recently, he spent several months living at the Budget Suits of America off Stemmons Freeway in Dallas.
Asa Bryant, his wife, and four children live at the same extended-stay hotel.
"Once I heard that and it was just so close to home, I was like, that's, that's crazy," Bryant said. "I'm still trying to wrap my head around it. What if he chose to do it here, you know? And it's like, what do you do then?"
Failed Attempt to Join the Military
The United States Army confirmed Garcia joined the military after graduating high school in 2008 but was terminated three months later without completing his initial training.
"Mauricio Garcia entered the regular Army in June 2008; he was terminated three months later without completing initial entry training. He was not awarded a military occupational specialty. He had no deployments or awards. We do not provide characterization of discharge for any soldier," said Heather J. Hagan, the U.S. Army public affairs spokeswoman.
An Army official who was not authorized to speak to the media said he was kicked out "under the 2005 edition of Army Regulation 635-200, paragraph 5–17, Other designated physical or mental conditions."
"The Army also looked at his progress and his training, how he was performing, the types of mistakes that he was making, and all that collectively helped to form why he was no longer in the military and was removed from the military. That's important, I think, for his employer if he was working for a security company or been working for a security company, what was going on in this person's past," Miller said.
White Supremacist Ideology Investigation
Federal officials are looking into Garcia's online activity as they try to determine a motive for the attack.
According to the Associated Press, his social media accounts suggest he was fascinated with white supremacy ideology and neo-Nazi views.
He allegedly posted photos online showing the Nazi tattoos on his body and described mass shootings as a sport.
Garcia had a patch on his chest when he was killed by police that read "RWDS," an acronym for the phrase "Right Wing Death Squad," which is popular among right-wing extremists and white supremacy groups, the AP reported.
The Texas Department of Public Safety is expected to give an update Tuesday on Garcia and the investigation.
The law enforcement agency confirmed his name Sunday afternoon but has not released any other information.
The Associated Press contributed to this report