Age restriction lifted at Dallas COVID-19 test sites
DALLAS - As of noon on Monday, age no longer matters when it comes to being tested for the coronavirus in Dallas.
The city said it is lifting the age restriction to test more North Texans at two testing sites in the American Airlines Center parking lot and outside the Ellis Davis Field House.
However, those who show up for a test must still have a fever of 99.6 or higher and symptoms that include shortness of breath or a cough.
RELATED: Coronavirus coverage
The testing sites are open from 8 a.m. to 8 p.m. daily to all Dallas-Fort Worth residents.
Once people arrive at the site, it's a three-part process. They must verify that they meet the requirements at the entrance, register and then finally test.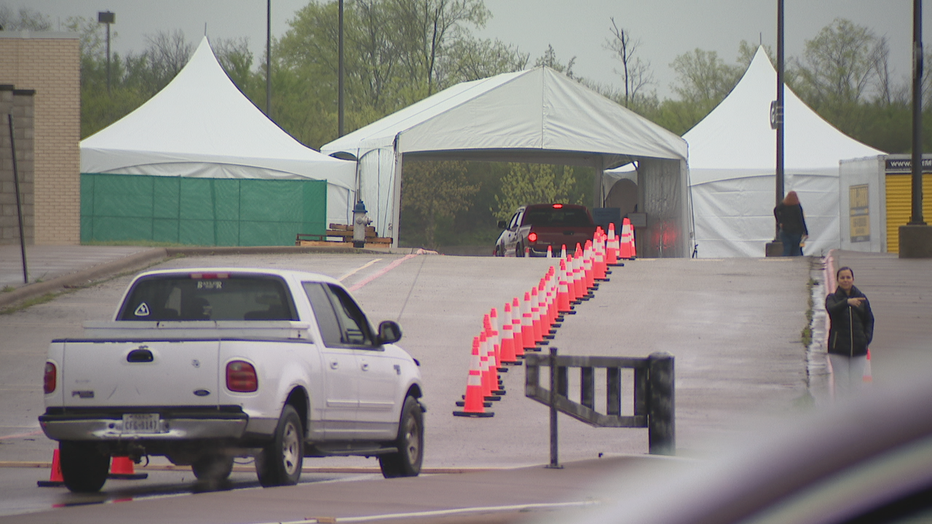 FOX 4 got a look at the line of vehicles as people waited for their tests Monday.
One person who got tested was a 29-year-old. The person who sent FOX 4 a picture and video says he was Monday's 189th test.
After the criteria change Monday, turnout at the drive-throughs increased by 100 percent, according to City of Dallas Emergency Manager Rocky Vaz.
"The consensus was that we should open it up for people so we could reach a maximum number of people," Vaz said.
Most of the 900 people who showed up for tests over the weekend were turned away.
The American Airlines center tested about 107 people Saturday. On Sunday, the Ellis Davis Field House down south, near I-20 and 35E also opened up. A combined 127 people among the two sites were tested.
Tests were denied to people who didn't have a fever or symptoms and to those who were not 65 and older, a healthcare worker or first responder.
Dallas County has the capability to test more people, which is why it's now being opened up to sick people of any age and not just those working the front lines.
"We are expected to get 5,000 kits a week. 2,500 per site," Vaz said. "So as long as it is needed and we get the kits and the supplies from the federal government, we will keep the sites open."
City, county and state officials are helping with logistics on site. Dallas Fire-Rescue workers are registering those driving through, and Parkland Hospital workers are screening and performing the tests.
The tests are then picked up by FedEx and sent to labs. It takes three to five days for the tests to come back. None have come back yet.
RELATED:
Dallas opens its 2nd COVID-19 test site; has locations near AAC, Ellis Davis Field House
Dallas opens up COVID-19 test site near American Airlines Center
Dallas setting up COVID-19 test sites near AAC, Ellis Davis Field House
Medical clinics say they need more coronavirus tests
Shelter-at-home order issued for Dallas County's residents and workers