1 dead, 5 others injured in gang-related shootout on Fort Worth freeway
FORT WORTH, Texas - A 19-year-old was killed and five other people were hurt in what Fort Worth police believe was a gang-related shootout on Southwest Loop 820 Freeway Friday night.
Police said the shooting happened just after 10 p.m., near I-20 and 35W, as two vehicles were eastbound on the freeway.
Those inside the two vehicles started shooting at each other.
A stray bullet hit a woman in another vehicle, and a man inside his home on the freeway service road was also injured by a stray bullet.
In total, police said six people were shot, and Dominick Primes was later pronounced dead from his injuries. The five others were treated for non-life threatening gunshot wounds.
Police said they could be looking at four of them as suspects, and more suspects could be out there.
Police added that they don't know how many shooters there were at this time.
No arrests have been made at this time.
Police believe this was a gang-related shooting, and FWPD's gang unit is investigating.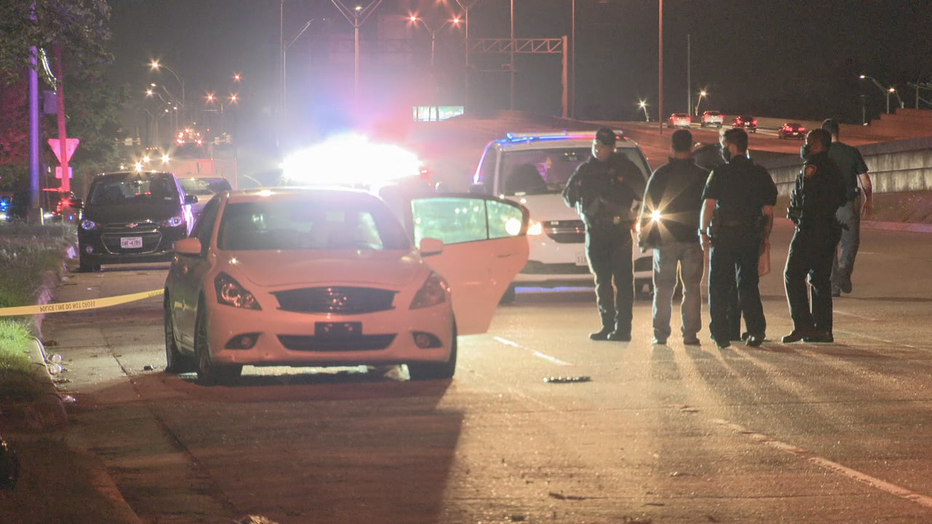 A man was minding his own business with his wife and two kids inside their home, when a stray bullet hit him in the arm.
That man was 68-year-old Rick Bollinger. 
"20 years in the Army, never been shot," he said. "So, I spent 20 years in the ARMY and 30 years retired, you know, and now I get shot in my own home."
Bollinger said he was watching TV, about to head to bed, when he heard gunshots. 
"By the time I turn, like that, I got hit in the arm and my son says, 'Drop, there's gunshots,' and I said, 'Yeah, I'm hit,'" he recalled.  
"When innocent people get hit for just not doing something, that's absolutely wrong," said Tracy Carter, with the Fort Worth Police Department.
One of those innocent people is grateful the stray bullet only grazed his arm.
"You know, whatever happened to standing face-to-face, toe-to-toe, being a man? You don't need to pull a gun out and just start shootings randomly, and that's basically what they did last night," Bollinger said.