5 things to watch for in first GOP presidential debate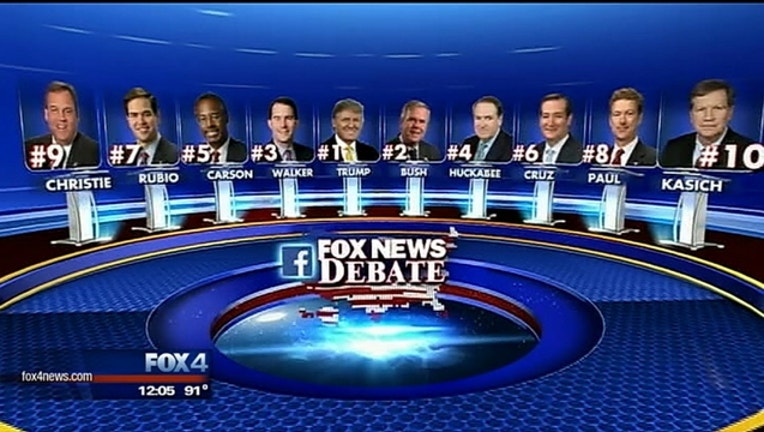 article
CLEVELAND (AP) - Ten Republican presidential hopefuls face off in the first prime-time debate of the 2016 campaign Thursday night in a clash that marks a big step forward in their quest for the nomination.
In all, 17 presidential contenders will appear on the Cleveland stage. The top 10, as determined by national polls, will debate at 9 p.m. The seven who didn't make the final cut will appear onstage during a forum at 5 p.m.
Five things to look for on an important night in national politics:
___
WILD CARD TRUMP
Billionaire businessman Donald Trump is considered the ultimate wild card in Thursday's debate, having repeatedly proven a willingness to say anything and to ignore convention. He will literally play a central role, since as the leader in recent polls, Trump will be positioned in the center of the stage. Virtually all his rivals prepared for the debate by having an aide play Trump during practice sessions, but no one knows how the reality television star will perform in his first presidential debate. It's unclear if any of his competitors will challenge him directly.
___
BUSH A RUSTY TARGET?
Bush could have the most to lose Thursday night. Considered the front-runner by most of his Republican competitors, Bush could face more criticism from his rivals than anyone else. He may be rusty. The former Florida governor hasn't participated in a debate in more than a decade. And a younger generation of candidates like Wisconsin Gov. Scott Walker and Florida Sen. Marco Rubio would love to steal some of his support from the GOP establishment. Bush will have to convince a skeptical electorate that he deserves to be the third member of his immediate family to serve in the White House.
___
NAUGHTY OR NICE
Party officials and big donors have called on the candidates to avoid getting too nasty with each other. And for the most part, the leading candidates have preferred to attack Democrat Hillary Rodham Clinton early in the primary season rather than attacking their Republican foes. But in a field as crowded as this one — particularly one that features Trump — it's hard to imagine the candidates will ignore each other completely in their first nationally televised meeting. The most pointed jabs of the night could come during the 5 p.m. debate in which the second-tier candidates have more incentive to make a splash than do their prime-time rivals.
___
LESSON ON IMMIGRATION
Mitt Romney helped doom his 2012 presidential bid — and damaged the GOP's standing among Hispanic voters — by suggesting in a debate that immigrants in the country pursue "self-deportation." The rhetoric on immigration from candidates in the 2016 election has been much more aggressive in some cases. Donald Trump described Mexican immigrants as rapists and criminals during his announcement speech, and others, while demanding a border fence, have also called for a reduction in legal immigration. The tone on the divisive issue Thursday night, if not the specific policies outlined, could go a long way in shaping Hispanic voter attitudes about the GOP in 2016.
___
SPLASH FROM UNDERCARD
Look to the champion college debater, Texas Sen. Ted Cruz, tea party favorite Ben Carson and former Arkansas Gov. Mike Huckabee, a former Baptist minister, to try to make a splash. And don't forget about former Texas Gov. Rick Perry, who will be relegated to the second-tier debate but has been working for years to redeem himself for his "oops" moment in a debate four years ago when he couldn't remember all three of the federal agencies he himself had proposed to eliminate.