Three dead after apparent murder-suicide shooting in west Fort Worth
FORT WORTH, Texas - Police are investigating an apparent murder-suicide that left three people dead in west Fort Worth.
Fort Worth police said callers reported hearing gunshots at the Westland Estates Apartments on Jonah Drive just after midnight Tuesday morning.
When officers went inside the first-floor unit, they found three bodies. Crime scene markers were placed for close to 20 shell casings.
So far, police haven't released any information about the victims as far as their ages or gender. They did say it appears there was some kind of domestic disturbance.
"We have a crime scene here that we have to go through. We want to do it correctly. We want to do it methodically," said Fort Worth Officer Buddy Calzada. "It's going to take our detectives a good while to not just do that but talk to the witnesses and see what other information we can gather."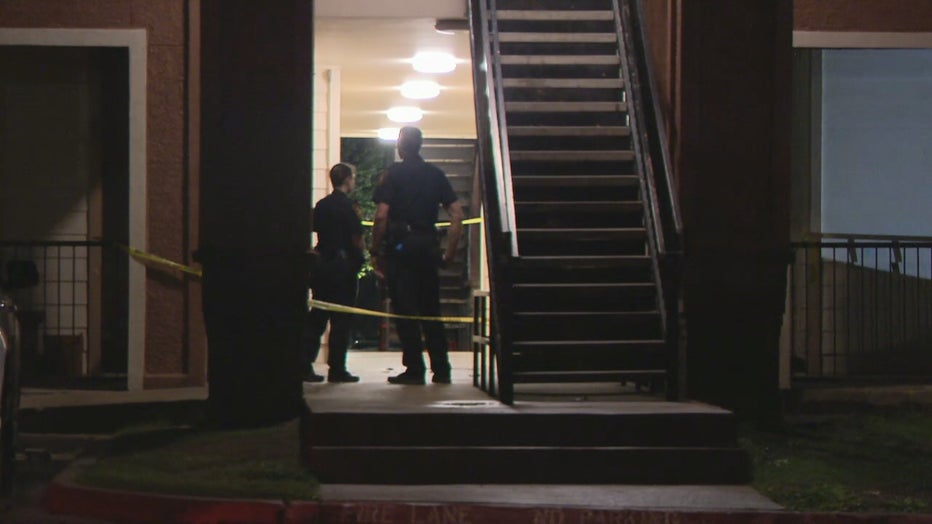 FOX 4 spoke to a neighbor who was inside her third-floor apartment when the gunfire broke out. 
"I was just trying to make sure my child wasn't hit. I told her to get on the ground," Keshia Ross said.
Ross and other neighbors said they saw two children exiting the apartment after the shooting had begun. They were not physically hurt but appeared to be in shock.
The neighbors kept the kids in another apartment until police arrived.
There's no official word on the circumstances surrounding the shooting, but it appears to be a murder-suicide.
Police said they are not looking for any suspects in connection with the crime and they don't believe there is any threat to the public.