Two young children killed in DeSoto house fire
DESOTO, Texas - Two children died Tuesday morning because of an intense fire that burned their DeSoto home.
The fire started around 4:30 a.m. in the back kitchen area of a two-story home on Wildwood Court, which is a cul-de-sac neighborhood near Belt Line Road and S. Polk Street.
DeSoto Fire-Rescue officials said 10 people live in the home and nine were there at the time. Most of them made it out of the house but a 1-year-old and a 2-year-old were trapped in a second-story bedroom.
Police were in the area and at the scene first. They tried to help the family but the flames were too intense.
"It's not that the adults didn't try to get up there, but the flames were so intense, they couldn't get up the stairs," said Cpl. Pete Schulte, City of DeSoto Public Information Officer.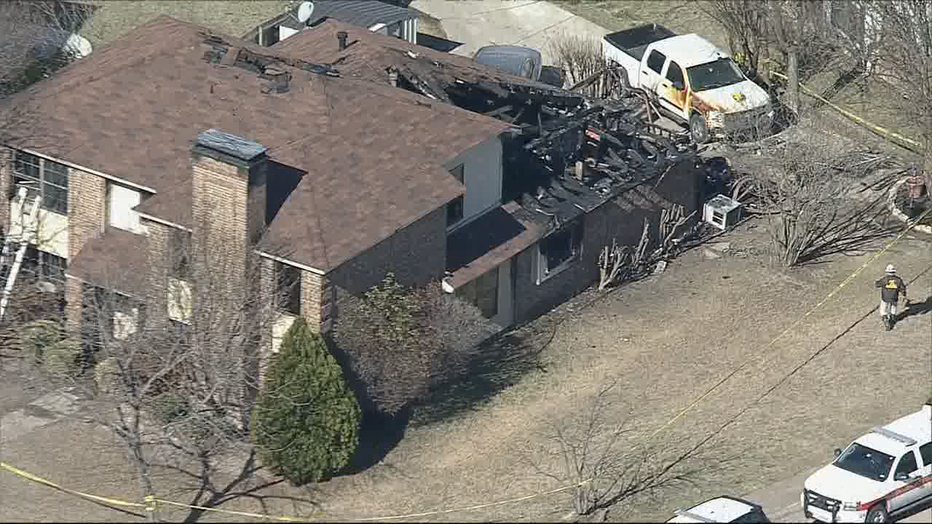 When firefighters arrived minutes later, they used a ladder to rescue the two young children. They were able to carry the children out and took them to the hospital but it was too late.
"This was a very intense fire. It was a very difficult fire to work with," said DeSoto Fire-Rescue Chief Jerry Duffield. "The four paramedics who went to the hospital with these children, they're all parents. And you know they saw their children with those children that they were working and doing medical aid to. So it's a very personal job."
Sibyl Washington captured cell phone video as fire raged at the home.
"I could hear someone saying, 'My babies, my babies, please get my babies,'" Washington said.
Neighbor Tristan Miller said the size of the blaze was stunning.
"I saw a huge towering inferno," Miller said. "I wouldn't think a fire could get that big that quickly."
Police say the family does have a history with Child Protective Services and CPS has been contacted in this case, per protocol. CPS said the agency had no information available as of Tuesday afternoon.
A task force led by the Texas Fire Marshalls Office is searching for the cause of the fire. 
"Our sympathy goes out to the family of the children and to the community because it's a loss. Any time we lose children it's a loss for everybody," Chief Duffield said.