15 arrested during operation to catch online child predators in North Texas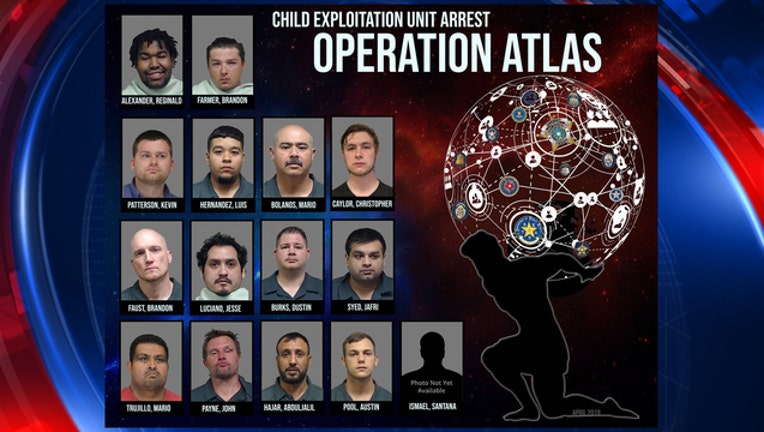 Fifteen men were arrested during an operation targeting child predators using the internet to find their victims.
The Collin County Sheriff's Office, along with the Texas Department of Public Safety, conducted Operation Atlas over a two-day period earlier this month.
Investigators from 14 different agencies took part in the operation.
Authorities were able to rescue a child victim in Arkansas, as well as arrest 15 suspects. Investigators believe the victim was being used to produce child pornography.
The following were arrested and charged with online solicitation of a minor:
- Hajar Abduljalil
- Reginald Alexander
- Mario Bolanos
- Dustin Burks
- Christopher Caylor
- Brandon Farmer
- Brandon Faust
- Luis Hernandez
- Santana Ismael
- Jesse Luciano
- Kevin Patterson
- John Payne
- Austin Pool
- Jafri Syed
- Mario Trujillo
The U.S. Marshal's Service-Eastern District of Texas, FBI, U.S. Immigration and Customs Enforcement, Homeland Security, Child Protective Investigations, Denton County Sheriff's Office, and police departments from Allen, Carrollton, Dallas, Farmers Branch, Irving, and Wylie, all assisted in the operation.