Smoked Onion Dip & Veggie Board from Crown Block in Reunion Tower
DALLAS - A new glitzy restaurant, Crown Block, opens at the top of Reunion Tower next week. The husband and wife business partners joined Good Day to share the recipe for their upscale spin on a family-sized veggie board.
Smoked Onion Dip
This recipe makes a larger serving so feel free to use what you would like for your board then put the rest in the fridge to enjoy later!
Ingredients:
2 1/2 white onions
2 1/2 shallots
1/2 tablespoon Garlic powder
3 cups vegan yogurt
1/2 tablespoon celery salt
1/2 tablespoon Worcestershire sauce
1 small handful of chopped green onion
1/8 cup of sweet vermouth
Salt and Pepper to taste
Directions:
First, cut 3 onions lengthwise and smoke in a smoker. If a smoker is not available, use your stove and saute' until water is out of all the onions and there's good color on them.
Finely dice and caramelize remaining onions and shallots in a saucepan. Once finished, remove the onions and shallots and set aside.
Using the same saucepan used to caramelize the onions and shallots, deglaze with vermouth by adding vermouth to the pan to loosen the remnants attached to the bottom from cooking.
Allow to cool and mix with remaining ingredients.
Vegetable Board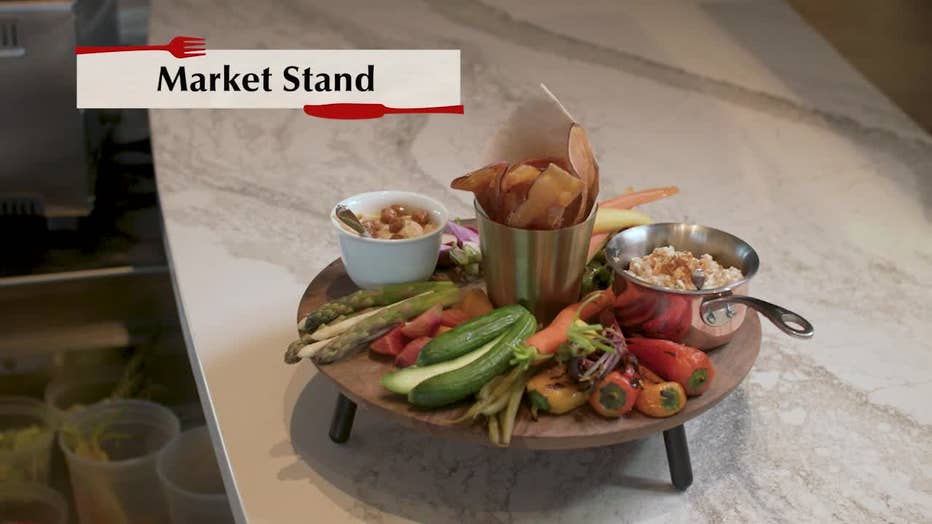 The great thing about an appetizer board is that it's all about what the family or group wants to make with their favorites. The thing that stands out the most with Crown Block's version is mixing an assortment of differently prepared vegetables. And of course, accompanying it with a homemade Onion Dip (recipe above) and some hummus.
Appetizer boards are a delicious and visually appealing way to serve a variety of vegetables, dips and other accompaniments. Crown Block is introducing the Market Stand next week (includes a variety of raw, roasted and pickled vegetables). They're sharing how to make your own version at home with the freshest seasonal ingredients. 
Vegetable Assortment:
8 raw heirloom carrots - sliced in quarters lengthwise
4 Persian cucumbers - sliced in quarter-inch rounds
8 asparagus spears
Pickled Vegetables - green beans, cauliflower, red onion
4 roasted sweet lipstick peppers (or shishito) and beets
These can be purchased from the grocery store in jars, so you can select your preference for the season's best.
A simple way to prepare roasted vegetables at home is to preheat your oven to 400 degrees. Line a baking sheet with aluminum foil for easy cleanup. Arrange peppers in a single layer on a prepared baking sheet. Broil the peppers until the skin is charred and blistered, turning occasionally, about 30 to 40 minutes
Directions:
Choose a board or platter: Start by selecting a wooden board, slate platter, or any other food-safe surface to serve as the base for your board. The size of the board will depend on the number of guests you are serving and the amount of ingredients you plan to include.
Make the freshest seasonal vegetables the star of the show: Choose an assortment of vegetables, Crown Block likes to offer both fresh and pickled.  Arrange them in different shapes and textures to create visual interest on the board.
Add complementary accompaniments: Choose a variety of accompaniments to pair with vegetables. Some popular potential inclusions are: fresh and dried fruits such as grapes, figs, apricots, or berries can add a touch of sweetness. Nuts like almonds, walnuts, or pistachios can add crunch. Olives, pickles, or marinated vegetables can add a tangy or briny flavor. Arrange these items around the vegetables on the board.
Add some spreads and dips: Include some spreads or dips to enhance the flavors of the vegetable varieties. Place these spreads or dips in small bowls or directly on the board.
After assembling, fill any gaps or empty spaces with additional vegetables you may have left over to create a visually appealing display.
Serve and enjoy (and celebrate the fresh ingredients of the season).
Serves 4-6 individuals at home as an appetizer.