Gingerbread Crinkle Cookies
A Dallas cookbook author believes every day deserves to be celebrated. It's a reminder that events big and small have a moment of gratitude.
Jocelyn Delk Adams, known for her food blog Grandbaby Cakes, jazzes up the classics in her new cookbook "Everyday Grand."
She joined Good Day to share the recipe for an easy holiday treat – ginger crinkle cookies.
Ingredients
2 1/3 cup all-purpose flour can go up to 2 1/2 cups if you want a puffier cookie. If you want it flatter, go for the 2 1/4 cups
1 1/2 tsp ground ginger
1 1/2 tsp ground cinnamon
1 tsp baking soda
1/2 tsp ground cardamom
1/2 tsp salt
6 oz unsalted butter room temperature but still firm to the touch
1/3 cup granulated sugar
1/3 cup dark brown sugar packed
1 egg yolk
5 tsp lemon zest from 2 lemons
1 tsp vanilla extract
1/2 cup molasses unsulfured
1 cup powdered sugar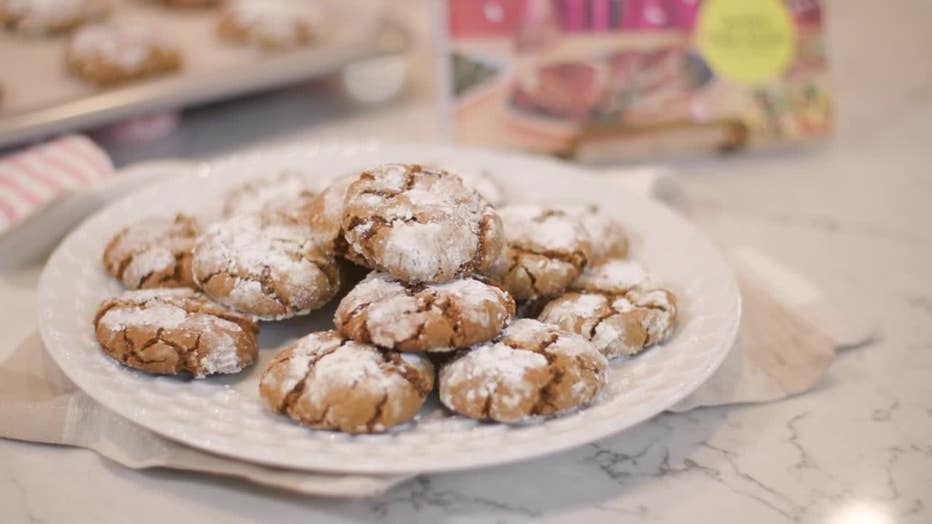 Instructions
In a large bowl, whisk together flour, ginger, cinnamon, baking soda, cardamom and salt and whisk until combined. Set aside.
 
In the bowl of your stand mixer fitted with a paddle attachment, add butter and both sugars and mix for 3 minutes or until light and fluffy.
 
Turn speed down to low and add egg yolk, lemon zest and vanilla and mix until well incorporated.
 
Add molasses and mix thoroughly then add flour mixture in three increments and mix until just combined. Make sure you scrape the bottom of the bowl making sure to thoroughly combine all ingredients into a cohesive yet soft dough.
 
After the dough is complete, tightly cover the bowl and refrigerate for an hour.
 
Preheat your oven to 375 F and line a baking sheet with a sheet of parchment and set aside.
 
Once the dough has been refrigerated, pour the powdered sugar into a separate bowl.
 
Use a tablespoon-sized cookie scoop or spoon to measure out dough. Using cold hands, roll it into a ball using your palms. Next, thoroughly roll the cookie ball in powdered sugar and place on the prepared cookie sheet. Repeat with remaining dough making sure to space cookies 2 inches a part.
 
Bake 1 sheet at a time for 10 to 12 minutes until cookies are puffy and cracked. The centers should still be soft, however.
 
Cool cookies on the baking sheet for at least 5 minutes so they can set, then transfer to a wire rack to cool completely.
 
Repeat steps 8-10 until all cookies are baked and enjoy.