Fried shrimp & jalapeno cheese grits with smoked sausage tomato stew
DALLAS - It's still more than a week away, but a few of the events at the Fort Worth Food & Wine Festival are already sold out.
Chef Tiffany Derry from Roots Southern Table will be among the dozens cooking at the four-day festival.
She joined Good Day to share the recipe for one of the dishes she'll be making and to talk about the ambitious series of events for thousands of guests.
The festival runs from March 30 - April 2 at the Hearts of the Ranch at Clear Fork and other locations.
Fried Shrimp & Grits
Serves: 4

Active: 30 minutes 
Total: 90 minutes  
Sausage Tomato Stew:
1 1/4 cups canned whole tomatoes 
1 tsp. canola oil
3 1/2 oz. smoked sausage, halved lengthwise then thinly sliced into half-moons 
Shrimp & Grits Balls:
1 cups (8 ounces) quick grits 
4 cups water
2 tsp. kosher salt 
6 Tbsp. unsalted butter
1 lb. medium shrimp (26/30) peeled, deveined, tail removed
2 1/2 tsp. Creole Seasoning  
1 Tbsp.  Canola oil, divided, plus more for frying
1 small jalapeno, chopped with seeds  
4 garlic cloves, chopped
1 1/4 cups shredded mild yellow cheddar
1 1/4 cups shredded sharp white cheddar
1 1/2 Tbsp. chopped fresh parsley
1 1/2 tsp. chopped fresh dill
1 1/2 tsp. chopped fresh basil
1 1/2 tsp. chopped fresh tarragon
1/2 cup all-purpose flour
2 cups panko breadcrumbs 
¾ cup plus 1 tablespoon whole milk
1/3 cup buttermilk
1 large egg
Additional Ingredients:
Pecorino Romano, for garnishing
Baby mixed greens, for serving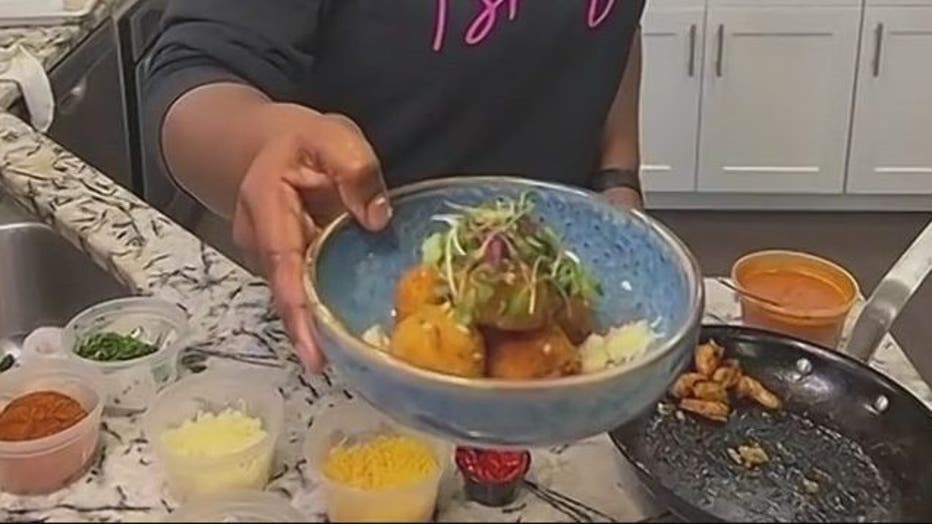 Instructions:
Make the smoked tomato sauce: Preheat a smoker. Place tomatoes in a stainless steel skillet and smoke until tomatoes are fragrant, about 30 minutes. Transfer tomatoes with juices to a blender and puree until smooth. Pour into a small saucepan and simmer over medium-low, stirring occasionally, until simmering for about 10 minutes.
Meanwhile, heat canola oil in a medium skillet. Add sausages and cook, stirring occasionally, until sausage turns golden brown about 8 minutes. 
Add tomato sauce and sausages to a blender and puree until well blended, adding a little hot water if too thick. Strain sauce through a fine-mesh strainer into a small saucepan; discard solids in the strainer. Cover and set sauce aside. 
Make the shrimp and grits balls: Bring 4 cups of water to a boil. Add 2 teaspoons of salt. Gradually whisk in grits and whisk until smooth and no lumps remain. Reduce heat to medium, add butter, and whisk until melted. Let grits cook, whisking occasionally, until tender to bite, about 5 to 7 minutes. Spread grits out on a rimmed baking sheet and let cool. 
Meanwhile, toss shrimp with Creole Seasoning in a medium bowl. Heat 1⁄2 tablespoon canola oil in a large skillet over medium high heat. Add shrimp and cook, turning once, until cooked through. Transfer to a work surface and let cool. Coarsely chop shrimp and set aside. Wipe out the skillet.
Heat 1 tsp. canola oil in the same skillet over medium heat. Add jalapenos and garlic and cook, stirring often, about 2 minutes. Transfer grits to a large bowl and break apart into small clumps. Add jalapenos and garlic. Add mild and sharp cheddar, and chopped herbs, and mix thoroughly. Add chopped shrimp and mix to evenly incorporate. 
Line a rimmed baking sheet with parchment paper. Using a 1-ounce scoop (about 2 tablespoons each), form grits mixture into balls and place on a prepared baking sheet. Chill until cold and firm, about 30 minutes. 
Whisk together milk, buttermilk, and egg in a medium bowl. In another medium bowl, add flour. In a third medium bowl, add panko. Lightly coat shrimp and grits balls with flour, then roll in egg mixture to coat. Add to panko breadcrumbs and coat, pressing to adhere. Return to the baking sheet.
Heat 3 -inches canola oil in a large pot over medium heat to 350°F. Working in batches, fry the shrimp and grits balls until golden brown on outside and gooey in centers, about 3 minutes per batch. Transfer to a paper towel-lined plate to drain.
Ladle ¼ cup sauce onto each plate. Top with a fried shrimp and grits ball and garnish with Pecorino Romano and baby greens.
Links:
Fort Worth Food & Wine Festival
www.fortworthfoodandwinefestival.com
Chef Tiffany Derry, Roots Southern Table
www.rootssoutherntable.com