Easy Weeknight Pasta and Mini King Ranch Casseroles
Easy Weeknight Pasta
Prep Time5 mins
Cook Time15 mins
Total Time20 mins
2 cups dried fusilli pasta (I use Jovial Brown Rice Pasta)
1 cup  2% milk
1 cup jarred marinara (I use Rao's)
1  cup water
1 tsp kosher salt, or more to taste
Combine the (uncooked) pasta, milk, marinara, and water in a large saucepan. Stir until well combined and then turn heat to high.

Bring the contents to a boil. Once boiling, stir in the salt and reduce heat to a simmer. Cook, stirring often, until the pasta is tender and the liquid has mostly absorbed and there is a nice, thick sauce, 12-15 minutes.
Mini King Ranch Casseroles
Serves 5
Sauce:
2 tablespoons ghee
2 tablespoons arrowroot starch 
½ teaspoon chili powder 
½ teaspoon garlic powder 
1½ teaspoons kosher salt
 ¼ teaspoon freshly ground black pepper 
¼ teaspoon ground cumin 
1½ cups low-sodium chicken broth
1 (10-ounce) can diced tomatoes and green chiles, such as Ro-Tel
Casserole:
5 gluten-free corn tortillas, halved and cut into ½-inch slices
3 cups diced rotisserie or cooked chicken
 ½ medium red bell pepper, seeded and finely diced (½ cup)
½ large jalapeño, seeded and finely diced (2 tablespoons) 
2 cups shredded mild cheddar and Monterey jack cheese blend
1 tablespoon finely chopped fresh cilantro leaves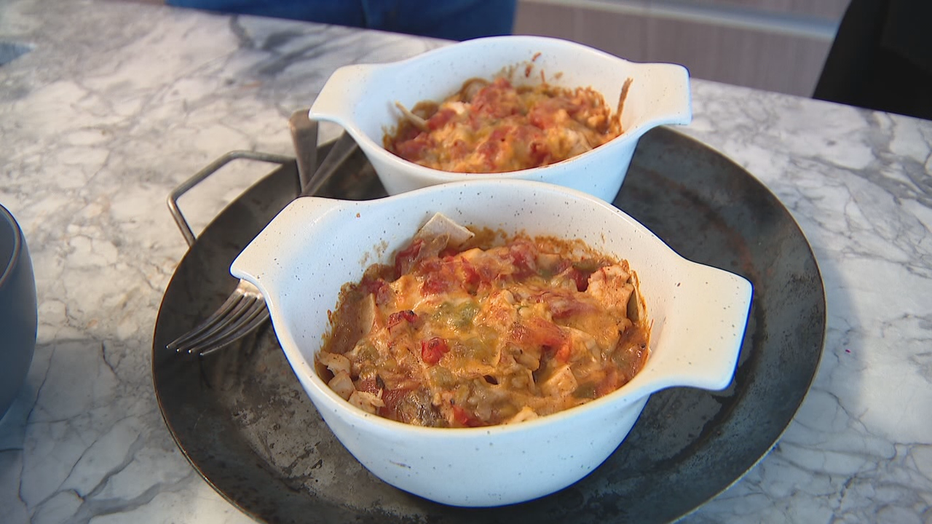 Preheat the oven to 375 degrees and lightly spray five 8-ounce ramekins or cocottes with cooking spray.

To make the sauce, heat a small saucepan over medium heat and melt the ghee. Add the arrowroot, chili powder, garlic powder, salt, pepper, and cumin and whisk to combine. Cook, stirring, until the spices are toasted, about 2 minutes. While whisking, slowly pour in the broth and cook, stirring, until the sauce has thickened, 2 to 3 minutes. Remove from heat and stir in the diced tomatoes and green chiles along with all the can juices. Set aside.

Fill the bottom of the ramekins with half of the sliced tortillas. Layer over them half of the chicken, bell pepper, and jalapeño. Pour ¼ cup of the sauce into each of the ramekins, then sprinkle with 1 cup of the cheese. Repeat by layering the remaining tortillas, chicken, bell pepper, jalapeño, and cheese, and top off with the remaining sauce. Place the ramekins on a large baking sheet and transfer to the oven. Bake, uncovered, until the cheese is bubbly and lightly browned, 18 to 20 minutes. Let the casseroles cool for 8 to 10 minutes before sprinkling with the cilantro and serving warm.
Link: www.thedefineddish.com