Crispy Greek lemon potato wedge recipe from Granbaby Cakes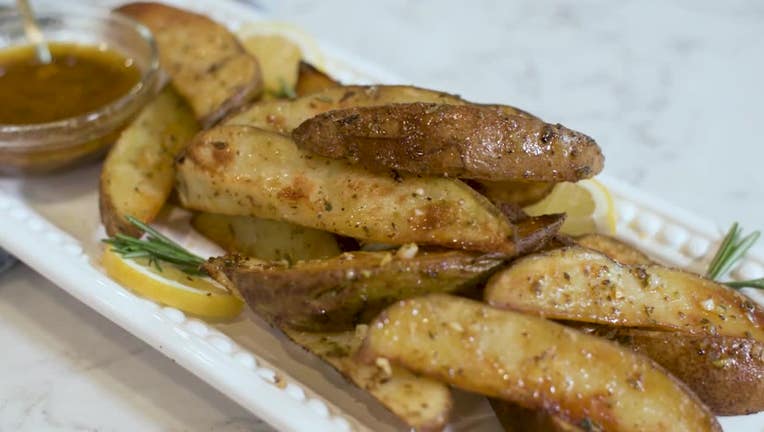 article
DALLAS - A DFW cookbook author is sharing her "stepped up" version of potato wedges, which are perfect for entertaining or a solo supper. 
It's one of Jocelyn Delk Adams' recipes from her new cookbook "Everyday Grand." It has more than 80 southern-inspired comfort food recipes, and she said it's full of gratitude and positivity.
Crispy Greek Lemon Potato Wedges
These wedges, inspired by the Greek medley of lemon, garlic, oregano, and rosemary, are a fam favorite. 
Ingredients:
1/4 cup olive oil, plus more for brushing
4 tablespoons ( stick) unsalted butter, melted
¼ cup fresh lemon juice
1/4 cup chicken stock
2 teaspoons kosher salt
1 tablespoon dried oregano
1 tablespoon chopped fresh rosemary, plus a few sprigs for garnish
1/2 teaspoon freshly ground black pepper
1/2 teaspoon smoked paprika
4 medium russet potatoes (3 1/3 pounds), cut into 3/4-inchthick wedges
7 garlic cloves, minced or finely grated (about 2 tablespoons)
½ cup crumbled feta cheese
¼ cup chopped fresh flat-leaf parsley
Instructions:
Position a rack in the middle of the oven and preheat to 425°F. Lightly brush a large rimmed baking sheet with a little olive oil.
In a large bowl, whisk together the olive oil, butter, lemon juice, stock, salt, oregano, rosemary, pepper, and paprika until combined. Add the potatoes and toss until thoroughly coated.
Transfer the potatoes to the prepared baking sheet (reserve that magic lemon sauce inthe bowl) and spread them out evenly into a single layer. Roast for about 20 minutes, until easily pierced with a paring knife. Remove the potatoes from the oven, stir in the garlic, and roast the potatoes for 20 to 30 minutes more, until golden brown and incredibly crispy.
While the potatoes are roasting, transfer the reserved lemon sauce to a small saucepan and bring to a boil over medium heat. Reduce the heat to low and simmer until the sauce has thickened, 5 to 7 minutes.  Remove from the heat and keep warm. 
Once the potatoes are ready, transfer them to a serving platter and immediately shower them with the feta and parsley. Drizzle with the sauce, garnish with the rosemary sprigs, and serve right away, with the remaining sauce alongside for additional drizzling.
Serves: 4