Creamy polenta recipe with mushrooms and fennel
DALLAS - Weeknight meals don't have to be ordinary. Cooking instructor Lori Fangio with A Taste of Paris shows you how to amp up the flavor quotient for a great weeknight meal that aims to please.
Creamy Polenta with Mushrooms and Fennel
1 cup yellow or white grits
2 cups beef stock
½ cup water
½ cup heavy cream
½ cup grated parmesan cheese
1 large bulb fennel, shaved
1-pound mushrooms, cleaned and sliced
2 tablespoons butter
1 tablespoon olive oil
3 sprigs of fresh thyme
3 cloves garlic, pressed
1 tablespoon Worcestershire sauce
2 tablespoons brown sugar
2 tablespoons dry vermouth
Salt and pepper to taste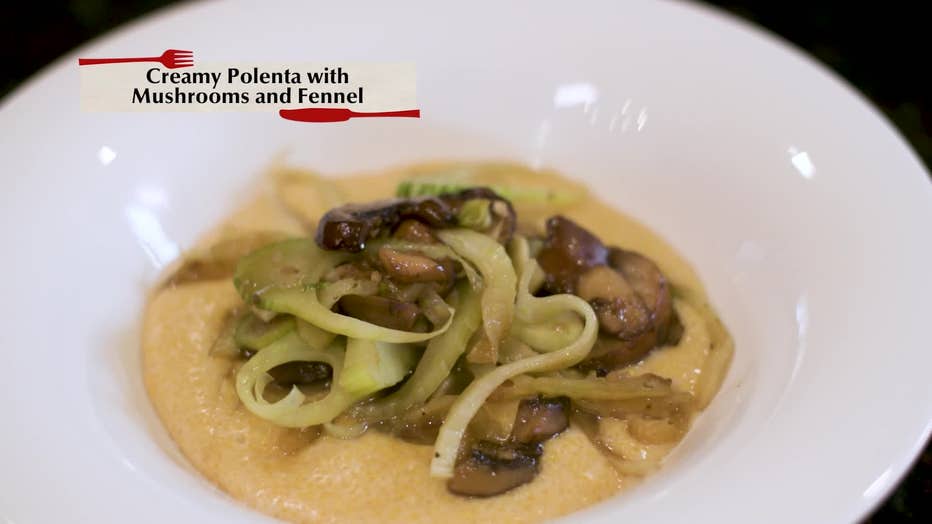 Bring the stock and water to a boil and slowly whisk grits into hot liquid.  
Cook over low to medium heat stirring often until grits are creamy and tender.  
If grits become dry and are not done, add additional water.  
Stir in cream, cheese, butter, salt, and pepper to taste.  
Meanwhile, cook the vegetable topping, and begin by heating olive oil in a medium skillet.  
Once hot, add the fennel and season it with salt and pepper.  
Toss the fennel in the pan for 4-6 minutes until it looks clear, remove from the pan, and set aside.  
Place 2 tablespoons of butter in the pan, add mushrooms and thyme and cook stirring occasionally until mushrooms are very brown.  
Add garlic, brown sugar, vermouth, Worcestershire sauce, salt, and pepper, and cook over low heat until sugar dissolves and a glaze is formed.  
Add fennel back to the pan and toss together.  
Plate grits in a shallow bowl, top with the fennel mushroom topping, and serve.
LINK: www.atasteofparis.net