Crawfish boil pizza recipe from GAPCo
Crawfish Boil Pizza
DALLAS - Crawfish Boil Pizza is not only delicious, it's indicative of GAPCo's creativity and commitment to differentiation. This recipe isn't difficult to create, but it requires a fair amount of prep time to enjoy each level of taste and texture sensation built in.
Pizza
Makes one 12-inch pizza
• Base dough ball, rolled out to a 12-inch circle 
• 155 grams Creole mustard cream sauce, see recipe below
• 170 grams whole milk mozzarella 
• 61 grams Andouille sausage cut into 14 quarter-inch bias slices then flash-seared in a hot sauté pan
• 31 grams boiled red potatoes (recipe below)
• 95 grams bagged frozen corn for finishing pizza (recipe below)
• 9 grams roasted garlic, (recipe below)
• 56 grams frozen crawfish tails, peeled and cleaned
• 4 grams Zatarain's dry crawfish boil spice
Preheat oven to 550 F.
Roll out dough on a clean work surface to a 12-inch diameter. Stretch out dough on a lightly floured pizza peel.
With a spoon or rubber spatula, spread Creole mustard sauce in an outward circular motion to one-quarter inch from the dough's edge.
Spread mozzarella evenly across dough.
Disperse toppings in following order: andouille sausage, boiled potatoes, spicy corn, roasted garlic and crawfish.
Place pizza on pan or slide from peel onto stone for 7 minutes or until crust is golden brown and cheese is bubbling. Halfway through the bake, rotate pizza 180 degrees for even browning.
Let cool 30 minutes, then break apart each clove into two to three pieces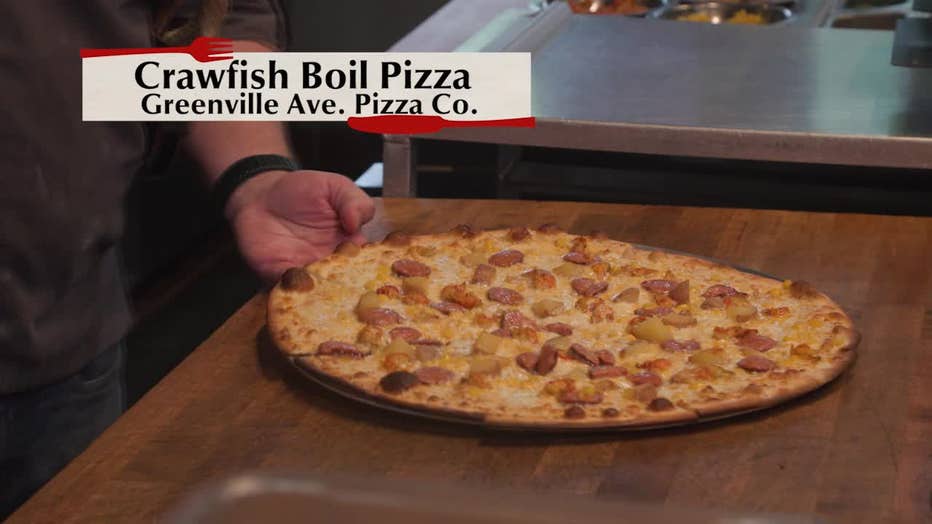 Boiled Red Potatoes
35 grams red potatoes
3 grams white wine vinegar
11 grams Zatarain's liquid crab boil
14 grams kosher salt
2 grams Zatarain's dry crab boil spice
Cut potatoes into half-inch dice (reference a ruler if necessary).
Add potatoes to small stock pot, cover with cold water by 2-3 inches, then add white wine vinegar and salt. Place on stove and turn burner to high.
Once boiling, allow to 5-10 minutes to cook until potatoes are fork tender but still firm.
Drain and cool with running cold water for 2 minutes then let dry on pan.
Then toss in crab boil spice
Corn
95 grams corn kernel clusters cut from blanched, frozen cob
Crawfish
56 grams crawfish tails
2 grams Zatarain's dry crab boil spice
In a small bowl, toss crawfish tails in crab boil spice and set aside.
Creole Mustard Cream Sauce
155 grams heavy cream
18 grams Creole mustard
3 grams liquid crab boil
1 gram cayenne
Bring heavy cream to slow boil over medium heat in a skillet or small sauce pot. 
Add creole mustard, liquid crab boil and cayenne and cook on a low boil about 5 - 10 minutes until slightly thick. 
Cool and store in a small container in the refrigerator.
LINK: www.gapc.co