Texas To-Do List: Immersive Disney Animation at the Lighthouse Artspace
What better way to celebrate 100 years of Disney animation than by immersing yourself in your favorite Disney animated movie? Well, at least feeling like you're in it.
We're checking out the Immersive Disney Animation experience in Dallas.
"Immersive Disney Animation is an exhibition that we've created together with Walt Disney Animation Studios in Burbank. It's been a dream of ours to create something so special that could unite a wide variety of audiences, from ages 1 to 100," explained Valeriy Kostyuk, Associate Producer at Lighthouse Immersive.
MORE FROM THE TEXAS TO-DO LIST
Immersive Disney Animation is brought to you by the same team behind Immersive Van Gogh. Although the two shows share a similar concept, they offer distinct experiences. 
"Based on our experience with Immersive Van Gogh, which is what started our company, we've managed to create something that many people have never seen before. Immersive Disney Animation is not only about projections. It's about emotions, wishes, and dreams. The fact that the show reacts to you takes it up a notch. The incorporation of special effects elevates it beyond Immersive Van Gogh," said Kostyuk.
This exhibit showcases over 60 Disney animated films, ensuring that every Disney fan's favorites are featured. True to Disney's tradition, the shows are filled with mesmerizing special effects. 
"We have bubbles, we have reactive wristbands. So, the colors you see on the walls also end up on your wristband. We also have interactive floors. You get to interact with the animation in the exhibit simply by moving around the room," Kostyuk explained.
The Lighthouse Artspace in Dallas offers an additional bonus exhibit that may not be available at every location - a real workspace where the Disney magic is born.
"You're able to see how animated films come to be. For example, as you walk in, you see this animator's desk. That is actually the original animator's desk from the Walt Disney Animation Studios. Some animated films you see in this experience were actually created at that animator's desk," Kostyuk said.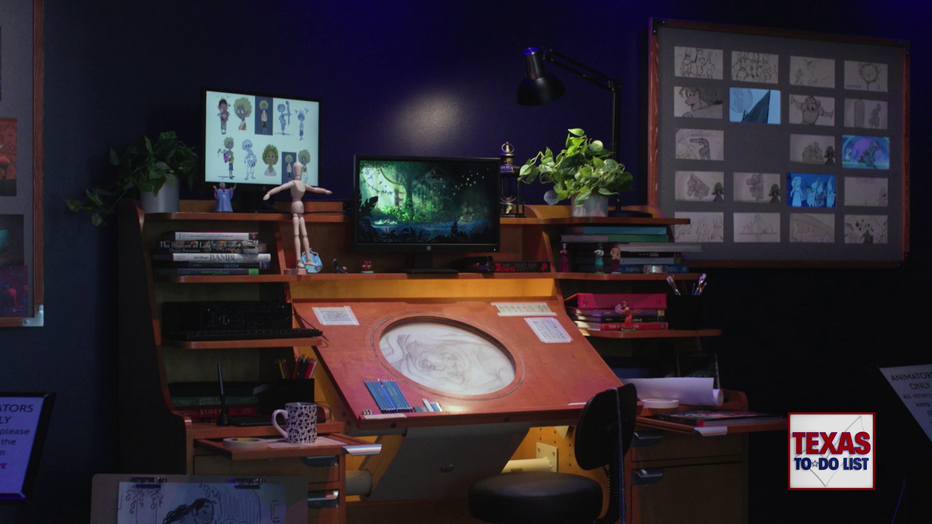 In this immersive experience, you even have the opportunity to become an animator yourself. 
"We have a drawing station where you can draw your favorite character. You not only get to emotionally experience what Disney is all about and relive your favorite moments, but you also get to be a part of the magic-making process," Kostyuk points out.
The Immersive Disney Animation exhibition will be at the Lighthouse Artspace Dallas is now closed.
The exhibit will be announced for trips to more cities soon.
To learn more about the exhibit click here.
It's a planner, it's a motivator, it's a challenge!  Get out and experience the wonder and fun around you with FOX 4's curated list of fun and unusual activities all across north Texas. Keep checking back as the list keeps growing. Got a suggestion for us? Email us here.