Warriors get 28th road win with 112-87 win over Mavs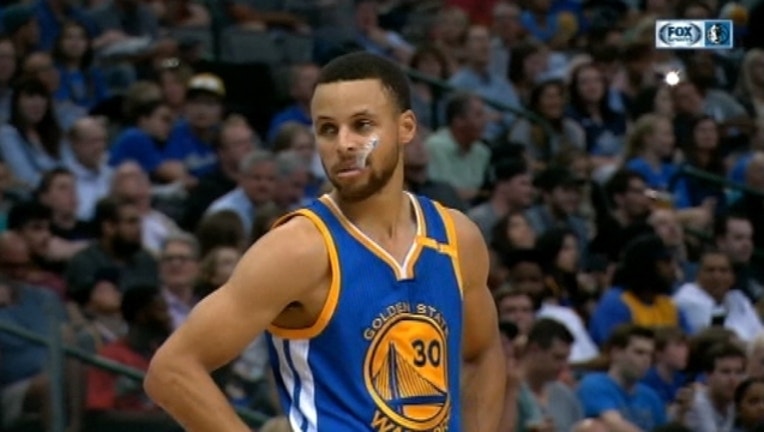 DALLAS (AP) - Klay Thompson had 23 points with five 3-pointers and the Golden State Warriors earned their 28th road win this season, beating the Dallas Mavericks 112-87 on Tuesday night in a matchup of the Curry brothers.
Stephen Curry, two-time MVP and the older of the brothers, had 17 points and nine assists for the defending NBA champion Warriors.
The Warriors, who have a league-high 57 wins overall this season, are the first team ever with 28 road wins in three consecutive seasons. They have a record 90 wins away from home during that span.
Seth Curry, who was undrafted in 2013 and just this year became a starter with the Mavericks, had 10 points on 4-of-12 shooting. He is now 0-6 in NBA games against his brother, half of those losses coming as Golden State swept the season series.
Golden State went ahead to stay after Ian Clark, who finished with 18 points, had bookend baskets in a 9-0 run in the second quarter. A 3 by Thompson tied the game before Shaun Livingston drove for the go-ahead layup.
Dirk Nowitzki had 16 points to lead Dallas, while Nerlens Noel had 14 and Yogi Ferrell 12.
LITTLE GOES FIRST
Seth was the first Curry to score, making a 3-pointer for the first basket 1:45 into the game. Big brother Stephen had consecutive baskets less than 2 minutes later.
BACK TO BACK
Golden State, which won at Oklahoma City on Monday night, is 11-4 in the second game of back-to-backs this season. The Warriors are 45-9 in such games since 2014-15.
TIP-INS
Warriors: Golden State (57-14) has a five-game winning streak since a three-game losing streak that was its longest of the season. ... The Warriors, who entered averaging an NBA-best 30.3 assists per game, had 34 helpers on 43 baskets. ... They have won six in a row, and 13 of the last 14, against Dallas. This was their only trip to Dallas this season.
Mavericks: Since winning four in a row to match their longest winning streak of the season, the Mavericks (30-40) have gone 2-4.
UP NEXT
Warriors home to play Sacramento Kings on Friday night.
Mavericks home against Los Angeles Clippers on Thursday night.